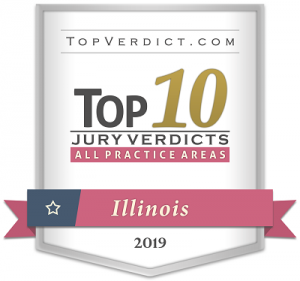 CHICAGO, IL (August 2020) – Clifford Law Offices' $101.6 million medical malpractice verdict in 2019 was recognized for the number one verdict in Illinois by Top Verdict, an entity that lists the top 10 jury verdicts obtained by plaintiffs' in cases that were tried in state and federal courts in Illinois.
A team of medical malpractice lawyers at Clifford Law Offices obtained the record $101.6 million verdict on behalf of a baby who sustained brain damage at birth at West Suburban Medical Center in Oak Park, Illinois.
Following a month-long trial, the medical malpractice team of Robert A. Clifford, Keith A. Hebeisen, Bradley M. Cosgrove, Sarah F. King, and Charles R. Haskins obtained the record verdict on behalf of the now five-year-old.
Gerald Sallis was brain damaged at birth when his external fetal monitoring strips were ignored for six hours. Experts on behalf of the plaintiff testified that he would have been born a normal baby if hospital nurses and other medical personnel would have alerted doctors to the abnormalities and performed an emergency C-section. The delivery occurred on Aug. 9, 2014.
The lawsuit was brought on behalf of his mother, Tequila Sallis, Gerald's mother. Gerald was her first born.
Plaintiffs' experts testified that Gerald is expected to have a normal life expectancy.
The case was tried before Cook County Circuit Court Judge Robert E. Senechalle, Jr. at the Daley Center before a six-man-six-woman jury that deliberated six hours. The previous highest verdict for a birth injury in Illinois was in 2016 for $53 million for a baby born with brain damage.
"We are very pleased to have received a just result for this baby who will need help for his entire life," Hebeisen said. "Obtaining the top verdict in the state in 2019 was the result of hard work and tremendous trial preparation by our entire team and having wonderful clients."
About Clifford Law Offices
Clifford Law Offices is ranked as one of the top law firms in Illinois as well as in the country. They are recognized leaders in complex personal injury and wrongful death cases such as medical malpractice, aviation litigation, products liability, premises liability, and transportation litigation. Clifford Law Offices has a reputation in class action matters, qui tam litigation or whistleblower cases, and commercial litigation cases.