The Chicago Daily Law Bulletin wrote an article titled, "Clifford Provides Pro Bono Work to Keep Homeless Shelter Open" in it's December 2019 issue. This article highlighted the pro bono work that Clifford Law Offices provided for Hope Covenant Church.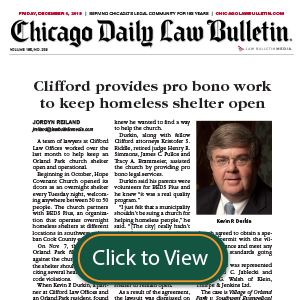 "A team of lawyers at Clifford Law Offices worked over the last month to help keep an Orland Park church shelter open and operational… The church partners with BEDS Plus, an organization that operates overnight homeless shelters at different locations in southwest suburban Cook County each night. Kevin P. Durkin, along with fellow Clifford attorneys Kristofer S. Riddle, retired judge Henry R. Simmons, James C. Pullos and Tracy A. Brammeier, assisted the church by providing pro bono legal services."
Click here to read the full article.