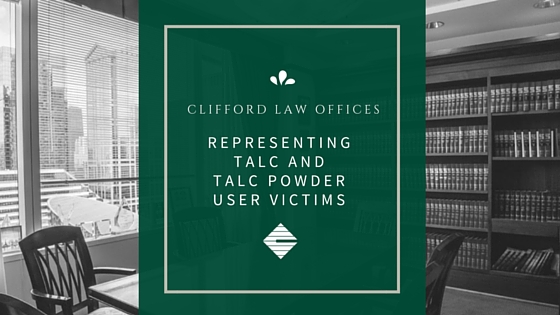 Long thought to be safe (so safe that it was heavily marketed for use on babies' bottoms to keep them dry in their diapers), it has been discovered that talc and talcum powder actually contains harmful carcinogenic ingredients like asbestos.
Talc and Talcum Powder lawsuits became front-page news with the $55 million verdict in May, 2016, when a South Dakota woman was found to have ovarian cancer caused by her use of talc for feminine hygiene. 
Documents from Johnson & Johnson, the largest maker of talcum powder, show that the company was aware of these health concerns in talc since the mid 1970's but nevertheless targeted women in its marketing efforts to use the product without any safety warnings.
Another 2016 talc case involved a 62-year-old Alabama mother who for many years used the company's talcum powder product, Shower-to-Shower, for feminine hygiene. She died of ovarian cancer last year. After deliberating three hours, the jury decided her family was to receive $10 million in actual damages and also awarded $62 million in punitive damages, meant to punish the corporation for its behavior. Plaintiffs' experts at trial explained to the jury their studies that linked talc to ovarian cancer.
When it was revealed that Johnson's No More Tears baby shampoo contained the same 1,4-dioxane and formaldehyde, the company agreed in 2012 to remove all probable carcinogens from all of its products by 2015.

Talc and Talc Powder Class Action Lawsuits
Clifford Law Offices represents victims who have suffered adverse consequences following use of talc. If you think you have been harmed by use of a talc product, please contact the lawyers at Clifford Law Offices who can determine if you have a viable cause of action against the manufacturer or other potential defendants for your medical issues.
Call Clifford Law Offices at 312-899-9090 or contact us online so we can discuss your case.