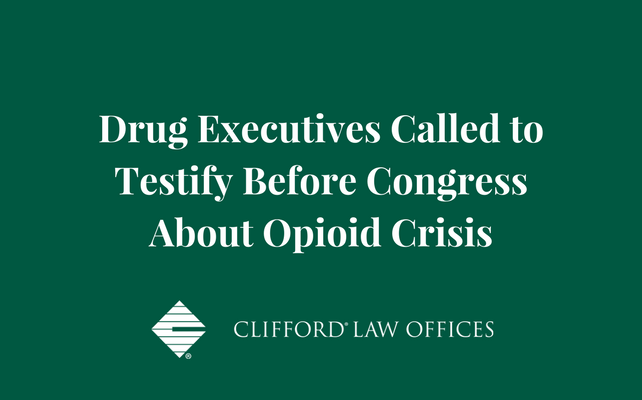 U.S. Congress has summoned current and former executives of pharmaceutical distributors to testify who are accused of contributing to the serious opioid crisis in this country and what role they and their companies play in the epidemic of prescription painkillers.
The May 8 hearing, scheduled before a House Energy and Commerce Committee oversight panel, will put pharmaceutical executives under oath to explain why so many highly addictive pain pills are finding their way into several states causing "the deadliest drug crisis in U.S. history," according to the Washington Post.
The epidemic is reported to have killed 200,000 people since 2000, and much has been brought to light with the deaths of many high-profile celebrities.
"It's time to directly question the leadership of national and regional drug distributors whom we have probed for critical information," said Greg Walden (R-Ore.), Chairman of the Energy and Commerce Committee in a statement.
The country's three largest pharmaceutical distributors, Cardinal Health, AmerisourceBergen and McKesson Corp., are all scheduled to testify at next month's hearing. Together these three companies are reported to account for some 85 percent of all prescription drugs in the U.S. with revenues amounting to more than $192 billion, according to Fortune 500.
Congress is said to also get information from these companies on how powerful narcotics are reporting information on these drugs to the Drug Enforcement Administration (DEA) that keeps a confidential database that tracks the flow of these pills from manufacturers to distributors to pharmacies.
A federal judge in the Northern District of Ohio in the first of 400 cases involving the opioid crisis that were assigned to him through multidistrict litigation ruled Wednesday (April 11, 2018) that the DEA must turn over all transactional business data and suspicious order reports for the companies activity in Alabama, Florida, Illinois, Michigan, Ohio and West Virginia between Jan. 1, 2006, and Dec. 31, 2014. Lawmakers are looking for a correlation between the shipments of opioids and deaths in those states. A March, 2019 trial date has been set in that case in Ohio and is the first of hundreds regarding this issue.
The hearing comes as Congress hopes to pass legislation this spring addressing the epidemic. The U.S. Senate Health Committee also is looking into the matter. The Senate Finance Committee announced that it would be holding a hearing April 19 on how to improve Medicare and Medicaid responses to the opioid epidemic.
Clifford Law Offices represents many people in these areas of litigation in its medical malpractice and class action practice areas. Clifford Law Offices partners Kevin P. Durkin and Shannon M. McNulty will be speaking on an afternoon panel entitled "America's Opioid Crisis From the Front Lines: Litigation Landscape, Venues, Jurisdictional Hurdles, Defenses and Causes of Action" in Chicago May 30. The all-day Multi-district Conference is sponsored by HarrisMartin and includes other timely topics including the recent Facebook breach, women's health litigation and the talcum powder litigation involving asbestos developments.