The dangers of driving under the influence of illegal and prescription drugs are well known. Despite these risks, millions of Americans still drive while under the influence of drugs. According to the most recent National Survey on Drug Use and Health in 2013, almost 10 million Americans admitted to driving under the influence of illegal drugs.
Different drugs can have different impacts on a person's driving ability. For instance, marijuana and certain pain medications can impair reaction times. Stimulants, such as cocaine and methamphetamine, will alter a driver's mood, making him or her more likely to engage in risky or aggressive driving.
Unlike with alcohol, there are not yet tests that reliably measure the impact of drugs in a person's system. Oftentimes impaired drivers have both alcohol and drugs in their system at the time of their arrest. For these and other reasons, it can be difficult to measure the exact impact of driving while under the influence of drugs.
What Has Illinois Done to Combat Drugged Driving?
According to the National Highway Traffic Safety Administration (NHTSA), Illinois is one of only five states that ban driving while having any amount of an illegal drug in the body. Even people who can use marijuana under the Cannabis Control Act cannot legally drive with any amount of marijuana in their systems. While criminal penalties are important to deter people from these reckless acts, only a personal injury or wrongful death claim will hold drivers and others financially responsible for causing injury or death.
Getting Justice against Drugged Drivers
On April 26, 2016, attorney and Kevin Durkin of Clifford Law Offices obtained a $22.7 million dollar jury verdict on behalf of Theresa Swenson, whose husband was killed by a drugged driver. This verdict was the largest wrongful death verdict in Cook County in more than ten years.
On the morning of May 22, 2012, Aaron Swenson was killed when a commercial driver rear-ended his vehicle in a construction zone. The driver, Adam Troy, was speeding. Drug tests near the time of the crash showed he had multiple narcotics in his system, even though the crash occurred at about 8 a.m.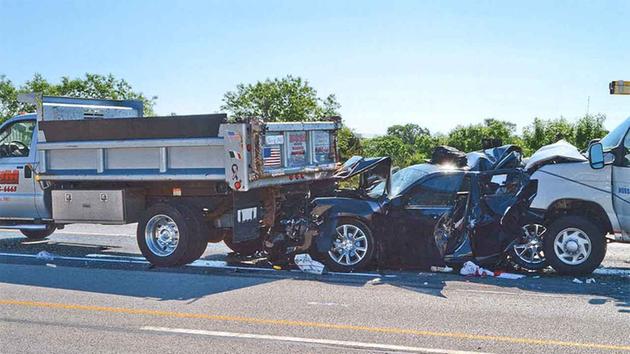 If you were injured by a drugged driver, or if someone you love was injured or killed by a drugged driver, a lawsuit can help you recover compensation for your damages. For decades, people across Illinois have trusted Clifford Law Offices to provide exceptional representation and client service in a wide array of injury claims.
Sources: DrugFacts: Drugged Driving, National Institute on Drug Abuse, State-by-State Analysis of Laws Dealing With Driving Under the Influence of Drugs, NHTSA