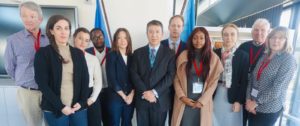 The European Union Aviation Safety Agency (EASA) met in Cologne, Germany, this week and several family members of the victims of the crash were present to hear what officials in Europe had to say about the potential ungrounding of the Boeing 737 MAX8 aircraft. Announcement in the U.S. by airlines and the Federal Aviation Administration (FAA) have been made that the Boeing 737 Max8 aircraft, the subject of two crashes within five months, may be back in the skies in 2020.
"The families of ET302 crash victims were heartened to learn that EASA has been independently investigating several critical systems in the MAX, not just MCAS. We requested transparency from EASA as to their scrutiny of the aerodynamic stability of the MAX and were promised a full report of their future findings, including meeting with test pilots. European aviation regulators are no longer relying on the findings of FAA," said Michael Stumo of the U.S., father of Samya Stumo, 24, who perished on the plane that crashed March 10 in Ethiopia. "This lack of trust resulted from Boeing leadership that created a culture replacing safety and innovation engineering with financial engineering. New CEO and board leadership is needed at Boeing to replace those who have eroded the company's greatness."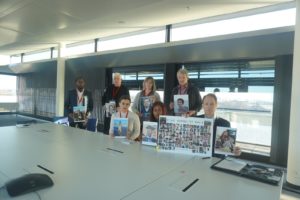 Stumo is among several family members who lost loved ones who have been very active in seeing that the plane does not fly until assurances come from around the world on the safety of the plane as well as proper training for all pilots before they take to the skies. The focus has been on the MCAS system, a software system that was a new system on the MAX8, but families are calling for a holistic review of the entire aircraft.
Following a two-day board meeting that ended Monday (Dec. 16, 2019) in Chicago, it was announced that Boeing would temporarily halt the manufacturing of the 737 MAX8 that killed 346 people in two crashes since late 2018. It has been widely reported that Boeing was under pressure to get a new plane made following its chief European rival, Airbus, manufacturing a new plane for airline customers. Congress and aviation safety entities around the world are investigating whether shortcuts in design, production, training and safety were made on the Max8 to get the plane into the skies sooner than it should have been. The Max8 is built in Renton, Washington, near Seattle.
At a hearing before the U.S. House Infrastructure and Transportation Committee, last week (Wednesday, Dec. 11, 2019), FAA Stephen Dickson told a packed room that the MAX8 would not return to service until 2020 and until he flew the plane himself, being a pilot.
Ralph Nader, an American activist and grand uncle of Samya Stumo, has been very outspoken on this issue and recently did a one-hour interview on KGO Radio in San Francisco where he said he lost "the dearest person in my life" and he doesn't want to see anyone else go through that same tragedy. He reported that he has been in touch with Canadian government airlines regulators.
Robert A. Clifford, founder and senior partner of Clifford Law Offices in Chicago, is lead counsel of the consolidated litigation pending in federal district court in Chicago regarding the Boeing litigation in the Ethiopian crash. Discovery is expected to begin soon following the request of millions of documents over the years regarding the decisions that were made regarding the MAX8's manufacture and identifying those who made the decision to declare the plane safe despite a crash that took the lives of 189 people in Indonesia in October, 2018, and then five months later a second crash in March 2019 that killed 157 more people on the same type of new jet in Ethiopia.
FlyersRights.org, an airline passenger organization, has filed a lawsuit in U.S. District Court in Washington, D.C. seeking release of the Boeing Corporation's proposed changes to the 737 MAX submitted to the FAA. FlyersRights.org previously submitted a Freedom of Information Act (FOIA) request for the records Nov. 1 seeking expedited treatment, but the FAA failed to respond, according to the lawsuit.
The FOIA request can be found here: https://flyersrights.org/wp-content/uploads/2019/12/FlyersRights-10.31.19-FAA-FOIA-Expedited-Request.pdf
The complaint can be found here: https://flyersrights.org/wp-content/uploads/2019/12/FlyersRights-v-FAA-Boeing-MAX-FOIA-Complaint.pdf
–
For further information, please contact Clifford Law Offices Communications Partner Pamela Sakowicz Menaker at 847-721-0909 (cell).