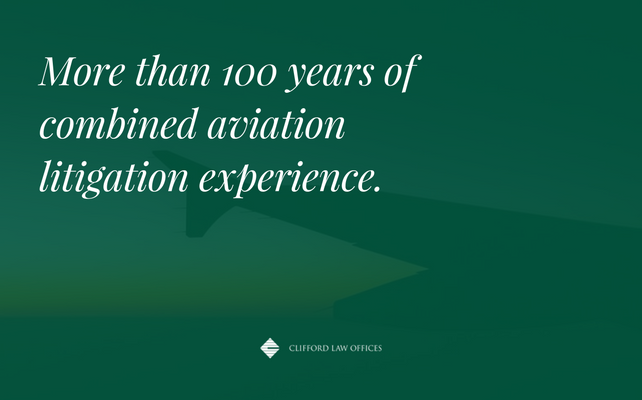 Clifford Law Offices is one of the nation's premier aviation law firms. Our aviation accident practice group is among the most experienced in the world.
Our firm consistently garners multi-million-dollar settlements and verdicts in aviation litigation. Robert A. Clifford, Founder and Senior Partner at Clifford Law Offices, has represented victims and victim's families for four decades in nearly every major commercial airline crash in the country.
We handle all types of aviation crashes – Commercial Aviation, Small Plane Crashes, and Helicopter Accidents. We also handle aviation-related accidents, such as being hurt by a plane propeller, suffering injuries while maintaining an aircraft or being hurt at a public or private airport.
To view our aviation timeline, which highlights some of our memorable aviation litigation verdicts, click here.
Learn more about the dedication, and expertise our firm brings to all cases.
Get The Answers You Need and The Justice You Deserve.
Contact us today – online or via phone at 312-899-9090.