The mother and brother of Ethiopian Air crash victim Samya Stumo were at Federal Aviation Administration (FAA) Headquarters in Washington DC on August 1st, 2019, in protest of comments made yesterday at a US Senate hearing by Ali Bahrami, the FAA's associate administrator for aviation safety. They are scheduled to meet with Bahrami at 3 pm August 1st, 2019, at his FAA office.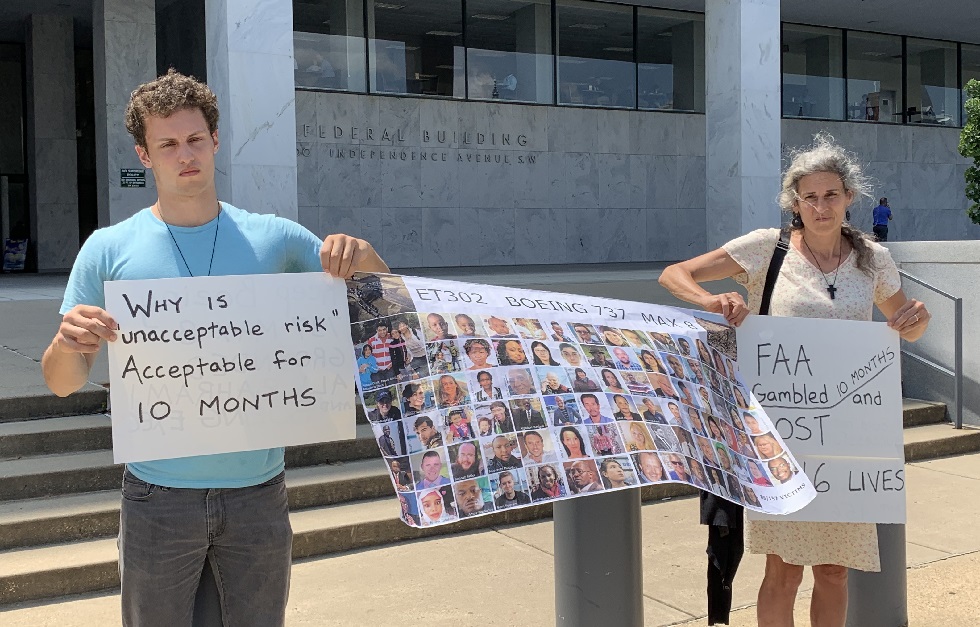 Nadia Milleron and Tor Stumo stood with signs in front of the FAA carrying signs that read: "FAA Gambled 10 Months and Lost 346 Lives" and other signs referring to testimony given July 31st, 2019, on the Hill.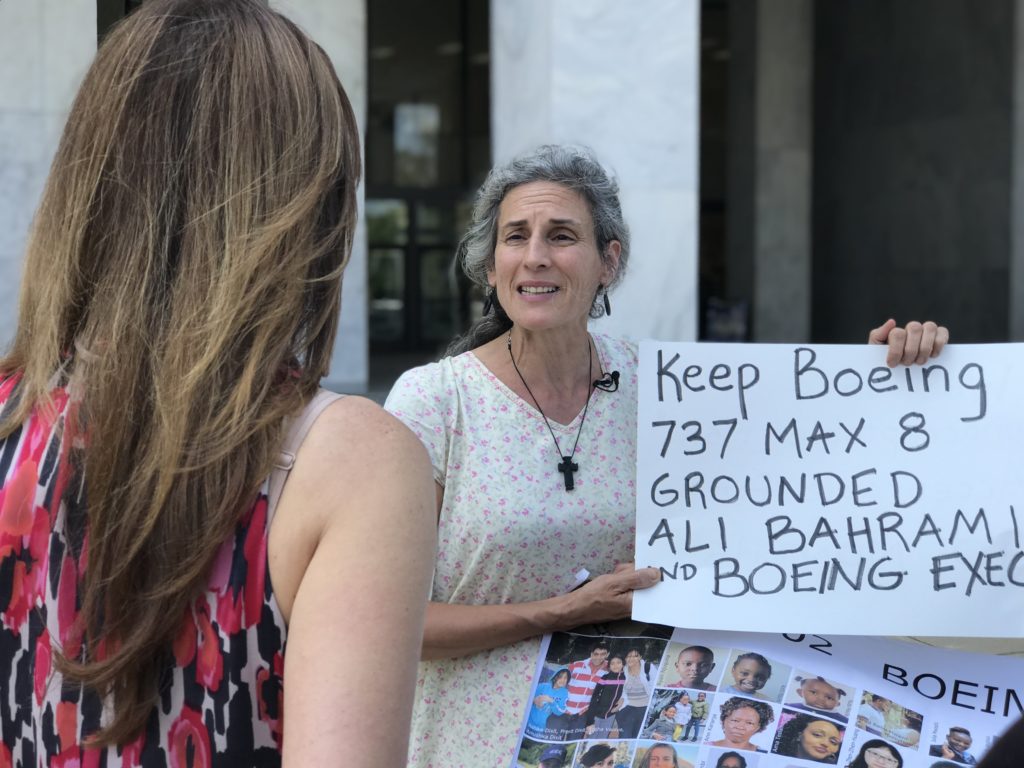 On July 31st, the Wall Street Journal reported that the FAA conducted an internal risk analysis after the first of two Boeing 737 MAX airliner crashes that "showed the likelihood was high of a similar cockpit emergency within months."
The Journal reported that the FAA analysis showed that it "didn't take that much" for a malfunction like the one confronted by the pilots of the Lion Air flight that crashed into the Java Sea last year to occur.
"Based on the findings, the regulator decided it was sufficient to inform pilots about the hazards of an onboard sensor malfunction that led to a flight-control system pushing down the plane's nose," the Journal reported. "The belief was that if pilots were aware of the risk and knew how to respond, it was acceptable to give Boeing and regulators time to design and approve a permanent software fix to MCAS, the flight-control system implicated in the crash."
Appearing before the Senate Appropriations Committee yesterday, Bahrami effectively confirmed the damning Wall Street Journal report. "Based on our risk assessment, we felt we had sufficient time to be able to do the modification, and get the final fix," Bahrami told Senators.
"Before joining the FAA, Bahrami served as vice president of the industry's lobbying association," said Milleron. "He's very close to Boeing and was a champion of delegating safety from independent FAA inspectors to Boeing. His decision to keep the plane in the air after the first crash led to the deaths of my daughter and 156 others when the second Boeing plane went down. Bahrami should resign immediately. We are calling for a criminal investigation into his actions and those of his colleagues in the Boeing executive suite."
Robert A. Clifford, founder and senior partner of Clifford Law Offices in Chicago and an internationally acclaimed aviation attorney who represents the Stumo family, said, "It is clear that Boeing relied on its close relationship with the FAA to make the decision to issue a pilot directive, rather than ground the planes after the Lion Air crash last October. First, the FAA allows Boeing to self-certify the 737 MAX8, then it effectively gave Boeing cover to hide a problem that took these lives in yet another crash four months later in Ethiopia."
About Clifford Law Offices
Clifford Law Offices is ranked one of the top law firms in Illinois and the country. They are recognized leaders in aviation litigation, complex personal injury, wrongful death cases, medical malpractice, products liability, premises liability and transportation litigation. Clifford Law Offices also has a reputation in class action litigation, whistleblower cases and commercial litigation cases.
www.CliffordLaw.com