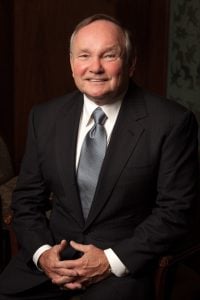 Robert A. Clifford, founder and senior partner at Clifford Law Offices, has been named the 2019 recipient of the Illinois Bar Foundation's Distinguished Award for Excellence, the organization's highest award.
Every year the IBF, the charitable arm of the Illinois State Bar Association, honors an individual who has made, "remarkable contributions to the legal community throughout his career."  Clifford, who recently was named Lead Counsel of the litigation involving the Boeing crash of a 737 Max jet in Ethiopia, has represented many high-profile clients and is known for his endless generosity to various causes and issues throughout Chicago and the state.
The 21st Annual Gala at the Four Seasons Hotel on Oct. 18 is sold out but sponsorships or program book ads to support the IBF are available by contacting Jessie Reeves at the Foundation at 312-920-4681 or jreeves@illinoisbarfoundation.org. All proceeds go to the mission of the Foundation which is to ensure meaningful access to justice and to help lawyers who fall on hard times.
The black-tie event features auction items and the Ken Arlen Orchestra.
–
For further information, please contact Clifford Law Offices Communications Partner Pamela Sakowicz Menaker at 847-721-0909 (cell).