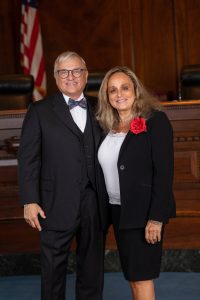 June 9th, 2022 marks the beginning of the 146th Annual Meeting of the Illinois State Bar Association. Last week, the official swearing-in of its new President, Rory Weiler of Kane County, and all of the new officers took place in the Illinois Supreme Courtroom in Springfield with Pamela Sakowicz Menaker, Communications Partner at Clifford Law Offices serving as emcee of the event.
Illinois Supreme Court Chief Justice Anne Burke swore in Weiler who heads a family law practice with his son, Tim Weiler, who also spoke at the event in the august wood-paneled room. Illinois Bar Foundation President Lisa Nyuli of South Elgin also spoke of Weiler's accomplishments to the group.
Justice David Overstreet swore in the other officers: Second Vice President Shawn Kasserman of Chicago, Third Vice President Sonni Williams of Lockport, Third Vice President-Elect Bridget Duignan of Chicago, and Immediate Past President Anna Krolikowska of Northbrook.
Menaker presented an award of appreciation to Krolikowska for her past year as ISBA President, the fifth female to hold that position since the organization was founded in 1877.
The Annual Meeting kicks off Thursday, June 9th, 2022 in Lake Geneva where various ISBA committees will meet and networking opportunities will be held, including the President's Reception, the first time it will be held in person since COVID struck.
Menaker is an outgoing member of the ISBA Board of Governors, having been elected to two three-year terms.  She continues to serve on several ISBA Committees including Bench and Bar, Tort Law and the Illinois Bar Journal Editorial Board.
John V. Kalantzis, attorney at Clifford Law Offices, also serves on the Tort Law Committee and begins his first term on the ISBA Assembly that meets Friday (6/10/2022).
Congratulations to all new 2022-23 ISBA Officers!