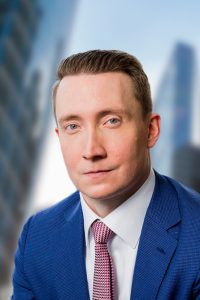 Joseph T. Murphy, partner at Clifford Law Offices, has been named a 2022 40 Under 40 honoree by Chicago Daily Law Bulletin and Chicago Lawyer.
This recognition honors lawyers that are passionate about helping others, seek justice, and have a willingness to work hard to achieve their goals.
Joe comes from a long family line of lawyers and judges and has a great understanding of the law and the importance of helping those affected by tragedy.
In addition to his legal profession, Murphy serves as a U.S. Army Reserve Officer in the Judge Advocate General's Corps. Before joining Clifford Law Offices, Murphy served as a Cook County Assistant State's Attorney, a Special Assistant United States Attorney for the Department of Justice, and was appointed as Chief of Federal Litigation while serving on active military duty with the U.S. Army's 101st Airborne Division. He has also served as an investigator on the Judicial Evaluation Committee for the Chicago Bar Association since 2019.
In 2022, Murphy was selected as a recipient of the Rising Stars of the Plaintiffs Bar award, which is a recognition given by The National Law Journal. This honor goes to a select group of attorneys who are under the age of 40 and who are up-and-comers in the plaintiff's bar.
He received his law degree from the University of Illinois at Chicago and obtained a Bachelor of Arts degree in history from Illinois Wesleyan University. In 2012, Joe passed the Illinois bar examination. Joe is part of the aviation team of lawyers at Clifford Law Offices and is working on numerous plaintiffs' personal injury and wrongful death cases including the 2019 crash of a Boeing jet in Ethiopia that killed all 157 on board.
Murphy, a 2003 graduate of Riverside-Brookfield High School, also attended L.J. Hauser Junior High and Central Grammar School in Riverside.
Congratulations Joe!