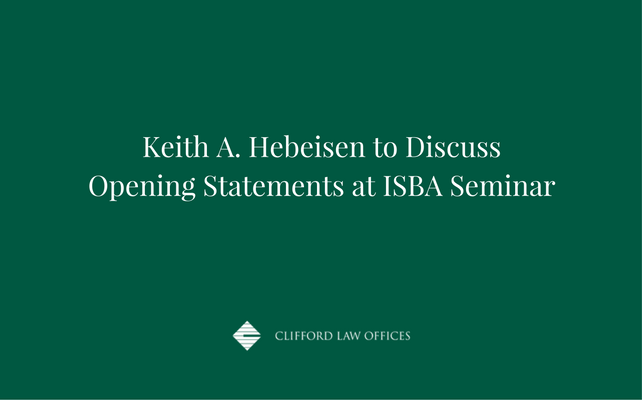 On November 1st, Keith A. Hebeisen will be discussing opening statements at the Illinois State Bar Association (ISBA) seminar titled, "Legal Education Anatomy of a Medical Negligence Trial."
He will be discussing opening statements from 11:00 a.m. – 12:00 p.m. alongside Timothy G. Nickels from Swanson, Martin & Bell LLP.
"Opening statements are one of the most important aspects of a trial because it sets the tone for what's to come and gives the jurors their first impression of you, your client, and your case. Join us for an in-depth look at how to make the most of your next opening statement," states the ISBA website.
Other segments from various lawyers will be presented from the perspective of both a plaintiff and defense attorney, giving attendees a well-rounded look at each topic. According to the ISBA, the following will be discussed:
How to limit or prevent evidence from being presented by opposing counsel;
The importance of choosing the right jurors for your case;
How to use the opening statement to make an impression;
How direct and cross examinations can both help and hurt your case;
The important roles of experts and treating physicians in this type of trial; and
The necessity of creating a compelling closing argument.
The seminar has been approved for 7.00 MCLE hours. 7.00 Professional Responsibility MCLE credit hours are subject to approval.
The all-day seminar will be from 8:45 a.m. to 5:15 p.m. on November 1st, 2017, at the ISBA Regional Office (20 S. Clark Street, Suite 900) in Chicago.
To learn more about the seminar, please visit: http://bit.ly/2yerS9a