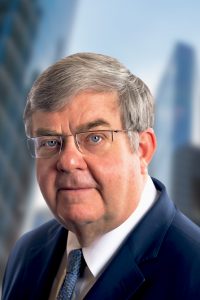 CHICAGO, IL (August 2021) – Clifford Law Offices partner Kevin P. Durkin was recognized by Best Lawyers as the 2022 "Lawyer of the Year" for Product Liability Litigation in the Chicago area.
Only a single lawyer in each practice area and designated metropolitan area is honored as the "Lawyer of the Year," making this accolade particularly significant. Receiving this designation reflects the high level of respect a lawyer has earned among other leading lawyers in the same communities and the same practice areas for their abilities, their professionalism, and their integrity.
Kevin P. Durkin was chosen by his peers as "Lawyer of the Year" in "Product Liability Litigation – Plaintiffs" due to his tireless work in this practice area. In particular, Mr. Durkin has had extensive experience in the area of aviation litigation, where planes have been found to be defective, many times through the intensive work of Mr. Durkin uncovering what is wrong with the aircraft. Through hundreds of depositions and pouring over thousands of pages of documents over the years, Mr. Durkin has helped his clients who have suffered the loss of a loved one in plane crashes, figuring out what went wrong with an airplane. In one crash, it boiled down to a defective jackscrew. Mr. Durkin has served as Lead Plaintiffs' Counsel, on the Steering Committee or on the Executive Committee of several major crashes in his career involving major commercial airline crashes in the U.S. for more than three decades. During his career, Mr. Durkin has successfully represented clients in many practice areas, including aviation accident litigation, transportation liability, premises liability, negligent security and medical malpractice.
Mr. Durkin has been recognized in The Best Lawyers in America publication since 2011.
In addition to the "Lawyer of the Year" award, Kevin Durkin was also listed in the 2022 Edition of The Best Lawyers in America in the following practice areas:
Aviation Law
Personal Injury Litigation – Plaintiffs
Since it was first published in 1983, Best Lawyers has become universally regarded as the definitive guide to legal excellence.
To learn more about Clifford Law Offices, click here. To learn more about Kevin P. Durkin, click here.
About Clifford Law Offices
Clifford Law Offices is ranked one of the top law firms in Illinois as well as in the country in the area of complex personal injury and wrongful death cases such as medical malpractice, aviation litigation, products liability, premises liability and transportation litigation. It also has developed a reputation in class action litigation and whistleblower cases as well as commercial litigation cases.