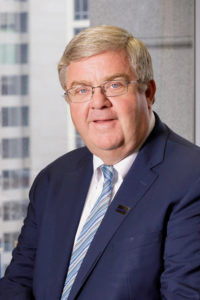 Kevin P. Durkin, partner at Clifford Law Offices, has been selected by Best Lawyers® as the 2023 "Lawyer of the Year" in the Chicago area for Aviation Law.
"Lawyer of the Year" is a significant distinction awarded to a single lawyer with the highest overall peer feedback across each practice area and metropolitan area. Recipients are selected based on the rank of voting averages received during the peer review assessments. This designation reflects the high level of respect a lawyer has earned among other leading lawyers in the same communities and the same practice areas for their abilities, their professionalism, and their integrity.
Kevin P. Durkin has over 35 years of experience successfully representing clients across many practice areas, with an emphasis on aviation accident litigation and transportation liability. He has been involved in nearly every major commercial airline crash over the last forty years, often serving as lead counsel. Kevin is an approachable and engaging leader who values hard work and dedication to his clients. His work ethic has propelled his career as a personal injury attorney to include a wide range of record-setting, globally-recognized aviation cases. He was selected by his peers as "Lawyer of the Year" in "Aviation Law" due to his outstanding record of results, his commitment to the Chicago community, and his determination to reach justice for his clients.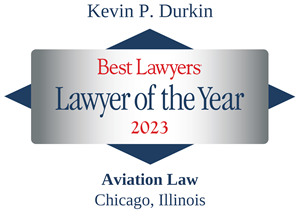 He was also listed in the 2023 edition of The Best Lawyers in America® in the following areas:
Aviation Law Personal Injury Litigation – Plaintiffs
Product Liability Litigation – Plaintiffs
Kevin has received numerous awards recognizing his work in aviation law and personal injury litigation. In 2022, he received Best Lawyers® "Lawyer of the Year" in Product Liability, and in 2021 he received Best Lawyers® "Lawyer of the Year" in Aviation Law. To learn more about Kevin, click here.
Congratulations, Kevin!
About Clifford Law Offices
Clifford Law Offices is ranked one of the top law firms in Illinois as well as in the country in the area of complex personal injury and wrongful death cases such as medical malpractice, aviation litigation, products liability, premises liability, and transportation litigation. The firm has also developed a reputation in class action litigation and whistleblower cases as well as commercial litigation cases.