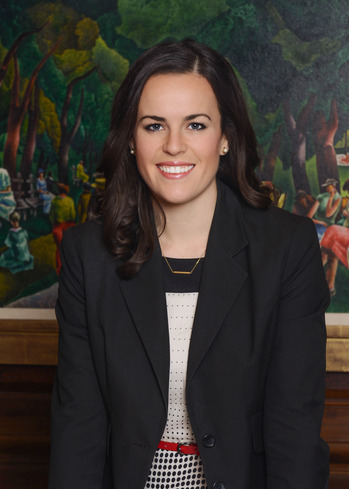 Helping other people in times of need. Volunteering in one's spare time. Juggling a house and family life.
That is the life of Tracy Brammeier, an associate at Clifford Law Offices for the past three years. She joined the firm as a law clerk as a 1L student at Loyola University School of Law and has been with the firm since 2011.
Her father was a lawyer, having practiced criminal defense work in Chicago for more than 30 years before retiring earlier this year. The oldest of four, her siblings all became engineers, but Tracy decided to follow in her father's footsteps. Helping others is something that she grew up with and has become a part of Tracy's DNA – her dad and her mom, who passed away 10 years ago, taught their children the necessity to give back to one's community. "Both of my parents instilled in us the importance of community involvement and helping people who are under served."
It's evident that these life-long lessons have stuck. Tracy is a Director of the Chicago Bar Association's Young Lawyers Section where she organizes panels of speakers for lawyers who have passed the bar examination in the past 10 years. She also is part of a Wills for Heroes program in basic estate planning that serves first responders and current or former military members at the Chicago Police Department headquarters on Saturday mornings. "Participating in this program seemed like a perfect way for me to give back and show my appreciation for these dedicated service members," Tracy said.
And recently she joined the team of volunteers of the 100 Club – a 50-year-old organization that provides 24-hour support to families of first responders in Cook County and Lake County. "Recently, I received a call from a widow who was in tears because she was worried that she might lose her home after her firefighter husband died in the line of duty. Her husband didn't have a will and she was not on the deed to the home. I was able to assure her that it would all work out."
She says over the years she has had a number of mentors: "My dad, Bob Clifford, Kevin Durkin, and the other amazing lawyers I work with – they have all taught me in different ways and have been a big part of developing my professional career and they continue to do so."
But it was another lawyer that had a significant impact on her life seven years ago when he introduced her to the man she would one day marry, Brian, head of an IT services company in the Chicago area. They dated as Tracy wound her way through law school for three years and even as she studied for the bar exam. "He thinks he's a lawyer," she said in jest. They recently moved to Bucktown where they love being able to support local shops and restaurants. "I love that Chicago's neighborhoods are so welcoming and community-oriented." They honeymooned in Hawaii and have found time to travel a bit, but one of her more memorable trips was when she studied in Rome, Italy, as a college student and took a week to go to Tunisia and stayed in the Sahara Desert with the group. "I knew it was a once-in-a-lifetime experience, and it was so different from everything I ever knew growing up. I'm glad I had that opportunity," she said.
Tracy knew she wanted to be a lawyer early on when growing up in Palos Park. "I just wanted to help people get answers for what happened," she said of her interest in the law. "Some people need the financial support, but almost all of those who have been victimized by wrongful conduct want answers as to why such a horrible thing could have happened to them or their families."
After graduating from Loyola University as an undergraduate student majoring in English and communications, she went to work at a large corporation. After a year, she said it became clear to her that anything she would do in a corporate environment helps the company thrive but not individual people. That's where she wanted to make a difference.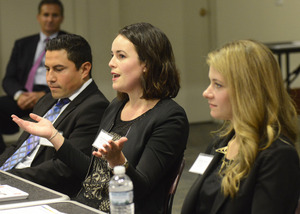 She recalls several important cases that she's worked on including a $1.4 million settlement of a case that settled during jury selection. It was a very sad case of a man who was sitting in the back of a police car waiting for a tow truck when a drunk driver slammed into the vehicle, killing him. She is working with Kevin Durkin on behalf of a young woman who was severely injured when a driver struck her as she walked on the sidewalk at a Chicago intersection. Currently, she's also working on cases involving bicyclists who have been struck by a truck and died as well as a boat that sank in Lake Michigan, resulting in three people drowning.
Tracy also has worked on train accident cases as well as medical malpractice cases, including one that settled for $1.5 million involving a woman who underwent a routine colonoscopy and because of a lack of oxygen during anesthesia was left with a permanent brain injury. She also does a great deal of probate work on behalf of clients at the firm, which is required in all cases involving a minor, an incapacitated person or a deceased person.
"I enjoy getting to make a difference in people's lives when they need it," Tracy said. "If you are involved in a terrible accident or are the victim of negligence, you usually have your family and friends to help you through for emotional support. We at Clifford Law Offices are the ones who do the legal work necessary to hold the party or parties accountable for the wrongdoing that occurred. We work hard so that people who face life-altering circumstances may have the financial assurance they are owed so they can handle the new challenges in their lives."