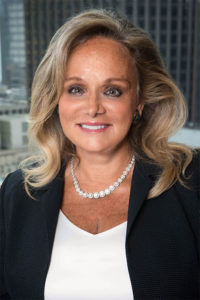 Pamela Sakowicz Menaker, Communications Partner at Clifford Law Offices, will be sworn in as president of the Catholic Lawyers Guild May 1st.
Justice Anne Burke of the Illinois Supreme Court will swear in Menaker and all of the officers at 5 p.m. at Jenner & Block, 343 Clark St., 45th Floor, Chicago. The Very Rev. Gregory Sakowicz, Rector at Holy Name Cathedral and Pam's brother, will give the opening prayer. Registration for the meeting is free.
Rachel Barton Pine, internationally acclaimed violinist in Chicago, with her seven-year-old daughter Sylvia Pine will play a violin duet of the "Ave Maria." A reception will follow the event.
Twenty-two members of the Board who will serve three-year terms also will be sworn in along with Vice President Kevin Murphy, Jenner & Block; Hon. Edward Washington II (ret.) of Nixon Peabody as Second Vice President; James Murray of the Metropolitan Water Reclamation District of Greater Chicago as Secretary; and Treasurer T. Nicholas Tyszka who has offices in Chicago. Immediate Past President is Sister Catherine M. Ryan of Maryville Academy, Chaplain Fr. Robert Cook and Associate Chaplain Deacon Daniel G. Welter of Holy Name Cathedral also will be sworn in.
Any member who joins or renews that evening may participate in a drawing for two Chicago Cubs tickets and four Chicago Sox tickets. Annual membership dues are $75; attorneys employed by government or legal aid agencies and those licensed for one to five years is $50. Law students enrolled at an ABA accredited law school and recent law school graduates preparing to take the bar exam or are awaiting the results of the bar exam are free along with clergy and members of religious communities.
For more information, go to the CLG website at http://www.clgchicago.org/
_____________
For more information, please contact Pamela Sakowicz Menaker at 847-721-0909 (cell).