For weeks we have seen news accounts of the devastation in Puerto Rico following deadly Hurricane Maria as well as the horrific earthquake suffered in Mexico that left hundreds dead. We as lawyers must come together to try to do something. If we can't make it down to those areas to help them, we can help with our financial support so that the basic needs of these people can be met.
Please do all that you can to help those in need. And join us with some of the city's leaders as we gather to continue to raise awareness to this most worthy cause.
Thank you.
Robert A. Clifford
Founder and Senior Partner
Clifford Law Offices
www.CliffordLaw.com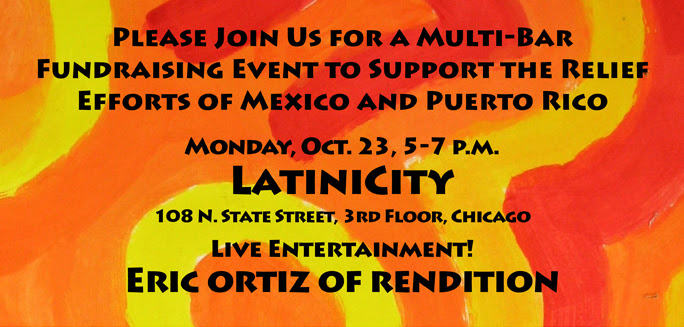 Honored Guests Include:
Hon. Luis V. Gutierrez, U.S. Congressman
Miguel Antonio Cuesta Zarco, Mexico Alternate Consul
Pedro Soler of Pedro F. Soler Law Offices, San Juan, Puerto Rico and a licensed Illinois lawyer will provide a first-hand account of the devastation in Puerto Rico.
Co-Sponsors include:
Clifford Law Offices
Floyd Perkins – Nixon Peabody
Hispanic Lawyers Association of Illinois
Honorable Jesse G. Reyes
Lesbian and Gay Bar Association of Chicago
Puerto Rican Bar Association
*Supporting organizations:
Advocate Society of Lawyers
Appellate Lawyers Association
Arab-American Bar Association of Illinois
Asian American Bar Association
Asian American Bar Foundation
Black Women Lawyers Association
Catholic Lawyers Guild of Chicago
Chicago Bar Association
Chinese American Bar Association
Cook County Bar Association
Decalogue Society of Lawyers
Filipino American Lawyers Association of Chicago
Hellenic Bar Association of Illinois
Illinois State Bar Association
Illinois Trial Lawyers Association
IWIRC Chicago Network
Jewish Judges Association of Illinois
Justinian Society of Lawyers
Korean American Bar Association of Chicago
North Suburban Bar Association
South Asian Bar Association of Chicago
Women's Bar Association of Illinois
To get involved, visit: http://diversitychicago.org/dc/