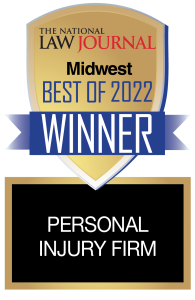 Clifford Law Offices has been voted by readers of The National Law Journal as the First Place recipient of the Best "Personal Injury Firm" category as part of the "Best of Midwest" reader's survey for 2022.
This distinction identifies Clifford Law Offices as a firm trusted by other attorneys and law professionals in the Midwest region. The firm will be named as the First Place Winner under the Best "Personal Injury Firm" category in the July/August Issue of The National Law Journal.
The law magazine developed its "Best of" supplement publication in an effort to help lawyers identify the top legal products and providers, and showcase them in an annual addition. Firms included in The National Law Journal's "Best of Midwest" are surveyed and ranked by the magazine's audience to provide a listing of favorite providers and vendors across several practice areas in the Midwest region ranging from litigation to accounting. The publication lists the three highest-ranking companies in each category, as voted on by readers. Each year, the survey is refined to ensure accuracy and to maintain its significance as a top-level resource for its readers.
To learn more about Clifford Law Offices, click here.
About Clifford Law Offices
Clifford Law Offices is an award-winning personal injury law firm in Chicago, IL that has been dedicated to serving the needs of clients in and around the Chicago area as well as across the nation since 1984. With decades of success handling complicated claims, the firm has become known as one of the premier law firms in the Midwest, representing plaintiffs in medical malpractice, personal injury, and wrongful death cases, among others. Clifford Law Offices has obtained national recognition for its success in handling commercial aviation cases that have resulted in several multi-million dollar verdicts for their clients. To learn more, go to: www.cliffordlaw.com.