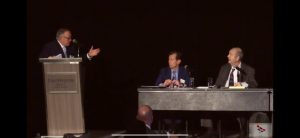 Robert A. Clifford, founder and senior partner at Clifford Law Offices, moderated a panel discussion at Law Bulletin Media's 13th Annual Symposium with the Judges on November 30, 2022, from 1:15-2:00 pm at The Westin Chicago River North Hotel.
The 2022 symposium provided sitting judges from Cook County a forum to share their experiences and advice with lawyers in the region. Within panels, the judges fielded questions, offered candid comments, provided valuable advocacy tips, and revealed the policies and procedures that are unique to their courtrooms.
Mr. Clifford's panel started the program, featuring Judge James P. Flannery, Jr., Presiding Judge, of the Law Division, and Judge Brendan O'Brien of the Cook County Circuit Court Law Division. The panel discussion provided insight into the state of operations in the Law Division, including an update on jury trial logistics and numbers, trial setting and scheduling, and other topics.
Additional panels throughout the afternoon provided dialogue surrounding subjects of interest including jury selection strategies, evidentiary objections, motions in limine, as well as detailed discussions about strategies for trying cases in a post-pandemic environment from panelists including:
-Hon. Timothy C. Evans, Chief Judge, Circuit Court of Cook County
-Hon. Kathy M. Flanagan, Supervising Judge, Motion Section
-Hon. James O'Hara, Motion Section
-Hon. Daniel A. Trevino, Motion Section
-Hon. Janet Adams Brosnahan, Trial Section
-Hon. Elizabeth M. Budzinski, Trial Section
-Hon. Thomas More Donnelly, Trial Section
-Hon. Bridget Jane Hughes, Trial Section
-Hon. Robert E. Senechalle Jr., Trial Section
To learn more about the Symposium with the Judges, click here.