Robert A. Clifford, founder and senior partner of Clifford Law Offices, has been inducted into the Lawdragon Hall of Fame, honoring his outstanding legal career as an acclaimed personal injury attorney and the diligent work of his Chicago-based firm. Lawdragon is known for highlighting the careers of leading lawyers and sharing their stories and insights with the legal community.
In his interview, Mr. Clifford discusses his initial draw to tort law over forty years ago, after hearing his future mentor, Phil Corby speak at a Tort Law lecture at DePaul University College of Law, and his bold move to secure a clerk position under Corby.
That initial inspiration, years of training, and experience eventually led Bob to open his own firm, Clifford Law Offices. His ties to the Chicago area are life-long and played a role in determining his education and the launch and development of his career. His purpose and dream remain to help individuals and families struggling with the burdens of serious and life-changing incidents that could have been avoided with proper precautions.
"I wake up every day as excited to do my work as I did the very first day I started. I consider it a privilege to represent those who are in need of holding those responsible for their wrongful conduct accountable and many simply don't know where to turn."
-Robert A. Clifford, Founder and Senior Partner at Clifford Law Offices
As head of an internationally recognized firm, Bob reflects on the path that brought him to success, and the many changes and challenges the industry has met along the way. He says adapting to new and transforming technology and facing difficulties such as those brought on by Covid-19, have created opportunities for growth and reflection,
Bob determines success not only by the amounts of financial awards he helps clients receive, or the number of successful cases but also by creating change at the societal level that will do more to protect the rights and livelihood of everyday citizens. Of his career and dedication to seeking justice for the victims of catastrophic incidents, he says: "I feel very fortunate to have found my calling. Throughout my legal career, I hope that I have helped many people in ways that others could not."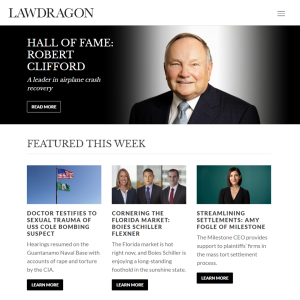 Bob and his firm have represented victims in nearly every major commercial U.S. airline crash in the last several decades and he has been involved in litigating cases stemming from major historic events, including the September 11 terrorist attacks in New York. Currently, Clifford Law Offices represents nearly 70 of the 157 people who were on board a Boeing 737-MAX plane that crashed in Ethiopia in 2019.
With the honor of being inducted into their Hall of Fame, Bob was also featured on Lawdragon's homepage.
To read Bob's full interview with Lawdragon, click here.