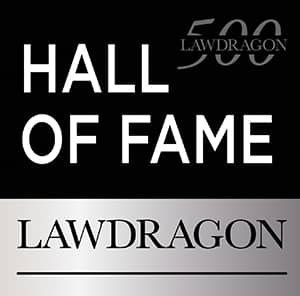 Robert A. Clifford, founder and senior partner of Clifford Law Offices, has been inducted into the 2023 class of the Lawdragon Hall of Fame.
Founded in 2015, the Lawdragon Hall of Fame celebrates individuals who have dedicated themselves to the legal profession to inspire a better future.
Clifford Law Offices is internationally recognized for its excellence and dedication to serving clients in complex legal matters. This plaintiffs' trial firm specializes in personal injury, medical malpractice, aviation, transportation disasters, class actions, mass torts, and product liability law. Mr. Clifford and his firm have become known as one of the premier law firms in the Chicago area and across the United States. Mr. Clifford regularly handles complex damage cases and is consistently awarded multi-million dollar verdicts and settlements. He is also routinely ranked as one of the most influential attorneys in the Chicago area.
Mr. Clifford holds leadership roles and is actively involved in multiple legal associations that continue to grow and impact the legal profession. He continues to invest in his community through philanthropic work that benefits education, families, underprivileged children, and the arts. Read more about Mr. Clifford's extensive contributions to the legal profession and the Chicago community here.
To view the full list of the 2023 class of the Lawdragon Hall of Fame, click here.
Congratulations, Bob!