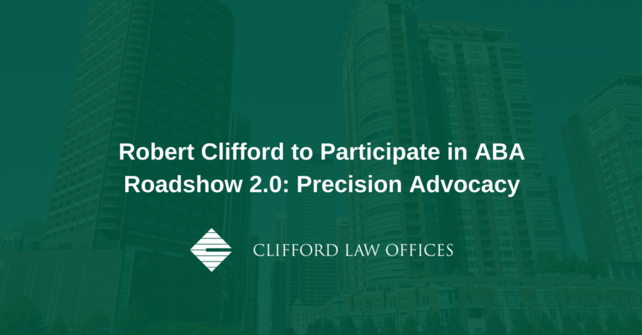 Robert A. Clifford, founder and senior partner at Clifford Law Offices, has been invited to participate in the American Bar Association's ABA SECTION OF LITIGATION ROADSHOW 2.0 on PRECISION ADVOCACY: Reinventing Motion Practice To Win.
A number of prominent lawyers and judges will be discussing how the 2015 Federal Rules Amendments promote efficiency in motion practice. The Chicago program will be held 1:30-4 p.m. on June 21st at the ABA, 321 N. Clark St., Chicago.
These thought leaders will analyze various problems with the current practice and offer cutting-edge approaches for resolving interlocutory disputes. Also participating will be the Hon. Ruben Castillo, Chief Judge, U.S. District Court for the Northern District of Illinois, and Hon. Andrea R. Wood, Hon. Jeffrey T. Gilbert and Hon. Edmond E. Chang of the Northern District of Illinois, and Hon. Jeffrey Cole, Magistrate Judge from the Northern District.
Steve A. Weiss, Honigman Miller Schwartz and Cohn; Lori E. Lightfoot, Mayer Brown; and Elizabeth A. Kaveny, Burke Wise Morrissey Kaveny, also will be participating. Hon. John Bates, Chair of the Advisory Committee on Federal Civil Rules and Senior United States District Judge of the United States District Court for the District of Columbia will moderate the program.