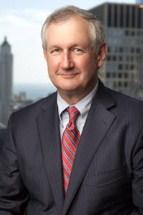 Robert P. Walsh, Jr., partner at Clifford Law Offices, is a recipient of the Albert Nelson Marquis Lifetime Achievement Award by the Marquis Who's Who Publications Board. It is an honor bestowed on lawyers who have "achieved career longevity and demonstrated unwavering excellence in their chosen fields."
Walsh has been with Clifford Law Offices for more than a quarter of a century practicing personal injury law with a concentration on vehicular crashes.
Walsh also received the honor of being one of America's Top 100 High Stakes Litigators through a multi-phase selection process that includes peer-review and is reserved for those litigators who have achieved at least $2 million in verdicts and settlements throughout their careers. Less than one half of one percent of all active attorneys in the U.S. receive this award.
_____________
For further information, please contact Clifford Law Offices Communications Partner Pamela Sakowicz Menaker at 847-721-0909.