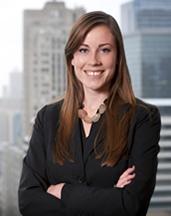 Sarah F. King, associate at Clifford Law Offices, will be sworn in as a member of the Women's Bar Association of Illinois (WBAI) Board of Directors at its 104th Annual Installation Dinner Wednesday, June 13.
King, who has long served the WBAI, is among 11 Directors who will be sworn in along with 2018-19 President Karie Valentino of Lewis Brisbois Bisgaard & Smith LLP and other officers.
The event will be held at The Hilton Chicago, 720 S. Michigan Av., Chicago. Cocktails begin at 5 p.m. Dinner will be served at 6 p.m. For further information, contact Monique at wbai@wbaillinois.org.