Sarah F. King, partner at Clifford Law Offices, spoke on WLS AM 890 radio at 8:30 a.m. Thursday, May 4, 2023, on her participation in The Trial of Socrates, a mock re-trial of the Greek philosopher that is sponsored by the National Hellenic Museum (NHM) and held on May 22.
Ten years ago, Robert A. Clifford, founder and senior partner of Clifford Law Offices, and Dan Webb of Winston & Strawn defended Socrates on charges of corrupting young people with his ideas and disrespecting the Greek gods. In the real trial in 399 B.C., Socrates was put to death by hemlock, although in the mock People v. Socrates trial 10 years ago, while he was also found guilty, his life was spared.
Sarah F. King will be joining the prosecutorial team with Clifford this year. She spoke on WLS radio with Patrick Collins, partner at King & Spalding, who will be defending Socrates, the trial teams switching roles from 10 years ago, sharing a preview of their legal strategies. King, the First Vice President of the Women's Bar Association of Illinois, has an impressive trial background that includes several record verdicts and settlements.
Actor and The Second City alum John Kapelos (The Shape of Water, The Umbrella Academy, The Breakfast Club, Forever Knight) will portray Socrates at the mock trial at 7 p.m. May 22 at the Harris Theatre, 205 E. Randolph, Chicago.
Early bird tickets are $80 until April 30, with single tickets increasing to $100 on May 1. Student tickets are $50. Attorneys can register to receive one hour of continuing legal education credit on-site. For more information and to purchase tickets, visit the National Hellenic Museum's website or call 312-655-1234.
For further information, contact Clifford Law Offices Communications Partner Pamela Sakowicz Menaker at 847-721-0909 (cell).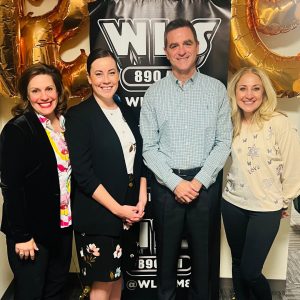 Jane Clauss, WLS-AM cohost of the Steve Cochran Show,Sarah King (center), WLS-AM anchor Andrea Darlis and Patrick Collins.