Sarah King Elected WBAI Financial Secretary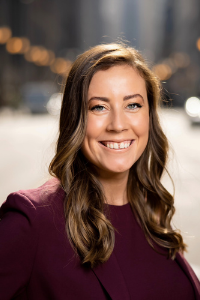 Sarah F. King, partner at Clifford Law Offices, will become the 2021-22 Women's Bar Association of Illinois (WBAI) Financial Secretary June 1 for a one-year term. The new officers will be officially installed at a virtual event June 17.
King, who has been active with the WBAI for years, also serves on the Illinois Trial Lawyers Association Board of Directors and has been very active with Women Everywhere, a non-profit organization dedicated to creating opportunities for women and children in need in the Chicagoland area through education and community service.
For further information, visit https://wbaillinois.org
© 2022 by Clifford Law Offices PC.
To protect you from COVID-19, we are offering a quick & easy remote intake process. Learn more here. Close