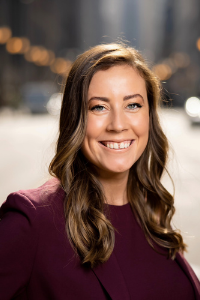 Sarah F. King, one of Chicago's rising medical malpractice attorneys at Clifford Law Offices, will be speaking at the Illinois Trial Lawyers Association Education Fund's inaugural Diversity & Inclusion Committee Leadership Bootcamp on Friday, January 21, 2022 in Chicago.
The Bootcamp provides training, skill-building, networking and conversation to young, motivated attorneys with fewer than ten years of practice, and those who are underrepresented in the legal community. Sarah's session, "Prioritizing Work from Multiple Sources – How to Say No" is an opportunity for young attorneys to adopt skills that will help them optimize their time in a fast-paced and demanding profession.
Sarah has been instrumental with Clifford Law Offices as a medical malpractice attorney, receiving verdicts totaling nearly $300 million. Her dedication to her clients and persistence to resolve cases demonstrates the pride she takes in her work and her goal to deliver results to those affected by medical malpractice.
In addition to her achievements in the courtroom, Sarah devotes her time to addressing needs in her Chicago community. Through her involvement with Women Everywhere: Partners in Service Project she has helped to coordinate volunteer activities that help create scholarships and other opportunities for women and children throughout Chicago. She is also an active member of the Women's Bar Association of Illinois and finds time to teach a course on Medical Malpractice at her alma mater, DePaul University College of Law.
If you are interested in attending the Bootcamp, click here. Note that applications are due by December 15th.