Sarah King to Speak at ITLA Trial & Practice Tips Seminar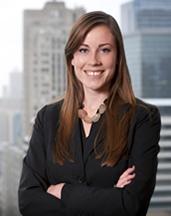 Sarah F. King, associate at Clifford Law Offices and Vice Chair of the Illinois Trial Lawyers Association (ITLA) Women's Caucus, has been invited to speak at its annual Trial Practice & Tips Seminar Friday, May 4. King, who was part of the planning committee for the event that is co-sponsored by the Women's Bar Association of Illinois, will be speaking on "Jury Selection." King has tried many cases to verdict particularly in the area of medical malpractice. She also serves as Co-Editor in Chief of the ITLA Trial Practice Notebook used by plaintiffs' lawyers across the state. The seminar will be held 8:15 a.m.-12:35 p.m. at the Hilton Oak Brook Hills Resort, 3500 Midwest Rd., Oak Brook. The program has been approved for 3.75 hours of continuing legal education credit including one hour of the newly-required ethics/diversity/inclusion and mental health/substance abuse requirements. To register or for further information, contact ITLA at 800-252-8501 or email angela2@iltla.com.
© 2022 by Clifford Law Offices PC.
To protect you from COVID-19, we are offering a quick & easy remote intake process. Learn more here. Close