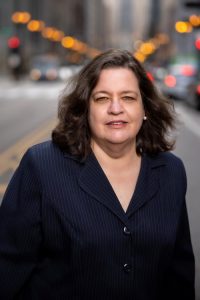 Susan Capra, a partner at Clifford Law Offices, shared with Lawdragon in a Lawyer Limelight interview how her professional experiences as a pediatric nurse helped her find a niche working obstetrical and pediatric cases in her practice area of medical malpractice.
"The guiding principle that I have used throughout my career is to put the client first. I am cognizant of the enormous privilege and responsibility I have in representing brain-injured children. I never forget that I am fighting for them."
It is rare to find a personal injury lawyer who is accomplished in the medical field and understands the challenges of hospital procedures, medical terminology, as well as best practices in the field. Capra's expertise in this area allows her to truly understand and dissect her client's cases and present the best possible litigation on their behalf.
Over the last few decades, Susan has found success prioritizing her clients – who are often young children and their families and have faced many challenges and medical difficulties leading up to proceedings and throughout their lives.
After graduating from DePaul University School of Nursing in 1989, Capra became a nurse at Children's Memorial Hospital (now called Lurie Children's Hospital of Chicago). She specialized in working with infants and children with serious neurological conditions and disabilities. Later in her nursing career she worked in the operating room.
Susan graduated from DePaul University College of Law in 1990 with honors and quickly became a standout attorney with Clifford Law Offices. Highlights of her law career include multiple large verdicts and settlements including an $11 million settlement for a case in which a hospital pharmacy mixed an intravenous solution with excessive amounts of glucose and administered it to a premature newborn who then sustained severe and permanent brain damage. Susan has been designated on Super Lawyers Lists for fifteen years.
Susan describes her practice style as being "tough and relentless" in her effort to defend her clients, but whether as a nurse or an attorney, Capra has always been the patient's advocate.
To read her Lawdragon article, click here.