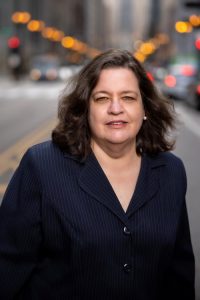 Susan A. Capra, partner at Clifford Law Offices, has been named one of the 50 Salute! Woman in Law in 2021 by the Law Bulletin Publishing Company. The Chicago Daily Law Bulletin and Chicago Lawyer Magazine will recognize Capra in a virtual awards ceremony at 3 p.m. on June 30.
Selected by her peers, the Law Bulletin/Chicago Lawyer selection committee and a Women's Advisory Board consisting of many of Chicago's well-respected and prominent attorneys, judges and academics, 50 women were selected among more than 400 nominees.
The honorees were chosen "for their work to mentor and promote other women in the profession, their success in the legal community and being a shining example of leadership," according to the criteria. Awardees were chosen from the private and public sector as well as non-profit and governmental lawyers.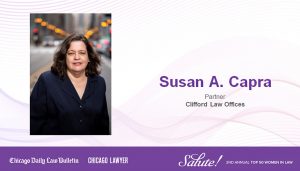 "I am honored to be among those recognized for this honor in a profession to which I have dedicated my life," said Capra who is also a registered nurse. "This award is particularly special given that it runs across so many sectors of Chicago's women attorneys."
Capra concentrates her practice in the area of medical and hospital negligence litigation where she has achieved numerous record settlements and verdicts in her 30-plus years as a highly respected attorney in Chicago, particularly in the health care arena.
Capra joined Clifford Law Offices as an associate in 1989, becoming partner after 10 years. She graduated from DePaul University with a nursing degree in 1982. Susan first was a nurse at Children's Memorial Hospital (now called Lurie Children's Hospital of Chicago). She worked largely with infants and children with serious neurological conditions and disabilities. During her last two years as a full-time nurse, she worked in the operating room. Her nursing background has been a tremendous asset in her work as a medical negligence attorney. Susan sums it up appropriately, "As a nurse, I was the patient's advocate. As a medical malpractice attorney, I am still the patient's advocate but in a different arena and profession."
Capra graduated from DePaul University College of Law in 1990 with Honors. Since joining Clifford Law Offices, she has handled all types of medical negligence cases but concentrates on cases involving obstetrical, gynecologic and pediatric negligence. Some of her career highlights include an $11 million settlement involving a hospital pharmacy that mixed an intravenous solution with excessive amounts of glucose, which was given to a premature newborn who then sustained severe and permanent brain damage as a result and a $10 million settlement on behalf of a mother whose infant suffered severe and permanent brain damage due to negligent obstetrical treatment rendered at a Chicago hospital. In the last decade alone, Susan has worked on more than two dozen complex obstetrical and gynecological cases, 15 of which have resulted in settlements and verdicts of more than one million dollars and 10 have resulted in settlements and verdicts of more than five million dollars.
Capra is involved in the legal community. She is a member of the American Association for Justice (AAJ), the American Bar Association (ABA) and the Illinois Trial Lawyers Association. She has lectured on various topics involving medical negligence. She has authored articles ranging from the future of hospital peer review to the use of expert witnesses in medical negligence cases.
Over the years, Susan has been recognized as an Illinois Leading Lawyer by Law Bulletin Media (2005 to present), selected to the Illinois Super Lawyers list (2005 to present), has an AV rating by Martindale-Hubbell, and was part of the list of Most Influential Women Lawyers in Chicago by Crain's Custom Media (2017). In 2020, she was named by Crain's Chicago Business on a list of Notable Women in Law in Chicago.
Capra is a lifelong Chicago resident and is actively involved in her community and volunteers every weekend with various organizations serving senior citizens, the military and their families, and underprivileged children.
Clifford Law Offices congratulates Susan on this tremendous recognition.
To register to attend this virtual event, go to www.chicagolawbulletin.com
For further information, contact Clifford Law Offices Communications Partner Pamela Sakowicz Menaker at 847-721-0909 (cell).