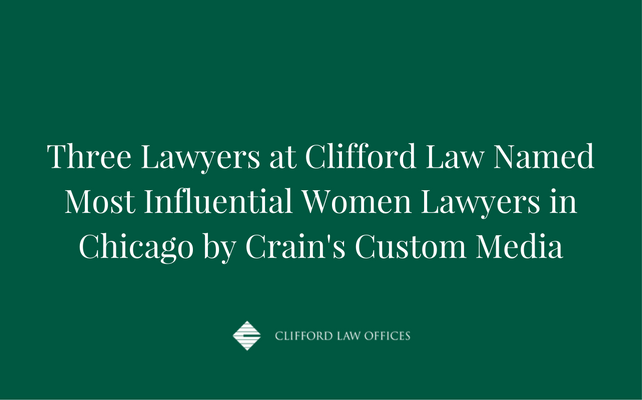 Three lawyers at Clifford Law Offices have been named the Most Influential Women Lawyers in Chicago by Crain's Custom Media.
Susan Capra and Shannon McNulty, partners, as well as Sarah F. King, associate, all have been named this honor and will appear in an August issue of Crain's Chicago Business.
Capra, also a registered nurse, has been recognized throughout the Chicago area for her expertise in the medical malpractice field. McNulty concentrates her practice in the area of class actions and consumer litigation, working on complex cases involving Pella Windows, the VW diesel engine fraud, concussion injuries to college students governed by NCAA rules and talcum powder usage causing ovarian cancer to unsuspecting consumers. King has substantial trial experience, particularly in the area of medical malpractice. In 2015 she was named one of the Top 40 Attorneys Under 40 by the Law Bulletin Publishing Company. She gives back to the community through her involvement in Women Everywhere: Partners in Service Project, a collaborative effort coordinating volunteer activities to help omen and children throughout Chicago.