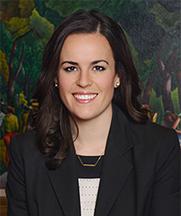 Tracy A. Brammeier, Associate at Clifford Law Offices, recently was appointed as a member of the Illinois Trial Lawyers Association (ITLA) Board of Managers.
Brammeier, who is very active in several community organizations, is a recent graduate of Loyola University School of Law.
She will serve with a number of plaintiffs' lawyers in serving on the 92-member governing body of ITLA, of which Robert A. Clifford, founder and senior partner of the firm, served as President in 1990-91. She joins Clifford Law Offices' attorneys Kevin P. Durkin, Bradley M. Cosgrove, Keith Hebeisen, Sarah F. King and Craig J. Squillace on the Board.
To learn more about Tracy, visit the firm's website at www.cliffordlawoffices.com.
_____________
For more information, please contact Clifford Law Offices Communications Partner, Pamela Sakowicz Menaker, at 847-721-0909.