Tracy A. Brammeier, associate at Clifford Law Offices, was awarded the Chicago Bar Association's Young Lawyers Section for her extraordinary work in the profession at the YLS Annual Meeting on Wednesday June 6, 2018.
Brammeier, who recently was part of the Clifford Law legal team that received a record $35 million settlement, also was named a Top 40 Attorneys Under 40 award by the Law Bulletin Publishing Company in 2018.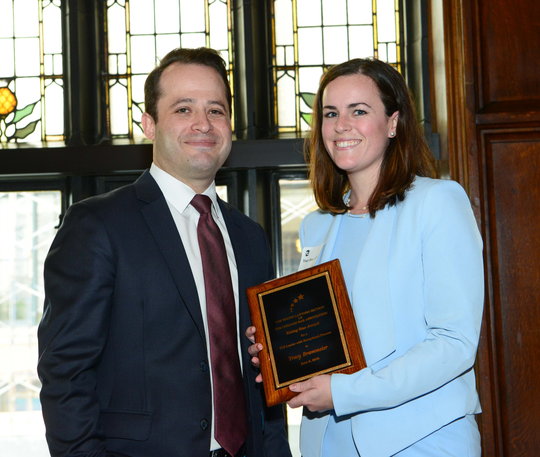 Brammeier pictured with CBA YLS Chair, Jonathan B. Amarilio, partner at Taft Stettinius & Hollister LLP
Tracy is a Director of the CBA YLS where she organizes panels of speakers for lawyers who have passed the bar examination in the past 10 years. She also is part of a Wills for Heroes program in basic estate planning that serves first responders and current or former military members at the Chicago Police Department headquarters on Saturday mornings.
She also joined a team of volunteers of the 100 Club, a 50-year-old organization that provides 24-hour support and resources to families of first responders in Cook County and Lake County.
___________
For further information, contact Clifford Law Offices Communications Partner Pamela Sakowicz Menaker at 847-721-0909.