The Spring Best Lawyers Business Edition honors and celebrates women lawyers who excel in their practice areas by highlighting their opinions and achievements within their specialty areas.
An article by Sarah King, partner at Clifford Law Offices, was featured in their Business Spring 2020 Edition.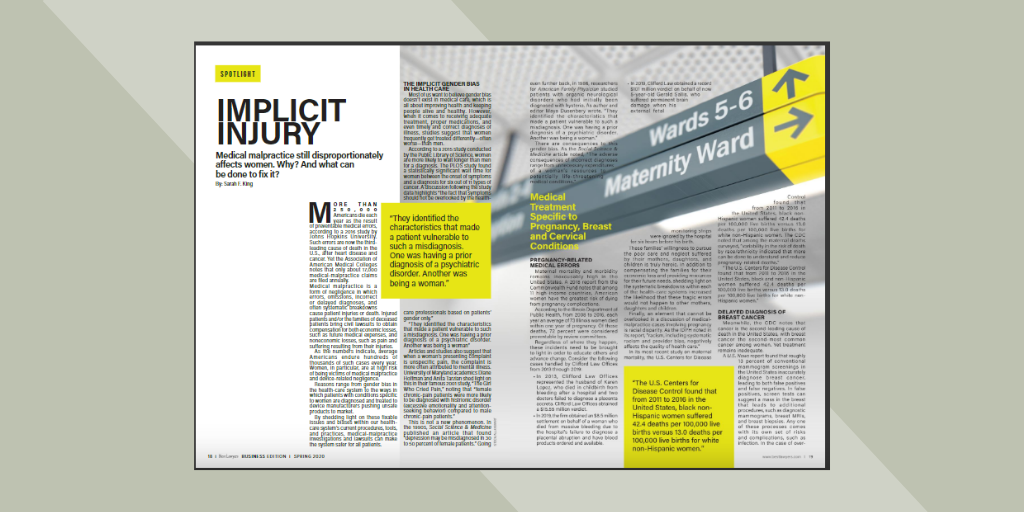 In her article, she addresses how women, in particular, are at high risk of being victims of medical malpractice and device-related negligence. She sheds light on fixable issues and biases within our health-care system's current procedures, tools, and practices, medical-malpractice investigations and lawsuits can make the system safer for all patients.
Some key points Sarah addresses in the article include:
The implicit gender bias in healthcare
Medical treatment specific to pregnancy, breast and cervical conditions

Pregnancy-related medical errors
Delayed diagnoses of breast cancer
Misinterpretation of pap smears in cervical cancer
Unsafe devices and medications still on the market
The cost of limiting access to justice
To read the full article, click here.