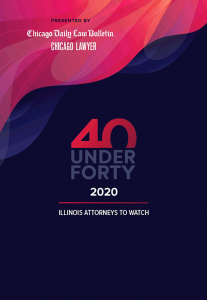 Charles Haskins, a medical-malpractice and personal injury lawyer with Clifford Law Offices, has already developed a reputation as one of the most talented young trial attorneys in the city. Even before hitting his 30th birthday, Haskins has delivered an impressive number of successful verdicts and settlements for his clients. He was selected as a 2020 40 under Forty honoree by the Law Bulletin Publishing Company.
Michael Bonamarte with Levin & Perconti said that Haskins' legal prowess is impressive for an attorney of any age, but is especially so for one as young as Haskins.
"The sheer number of jury trials Chuck has taken to verdict is unique," Bonamarte said. "At 29, he's tried more cases than many trial lawyers have tried in their entire careers. He's going to be a force for years to come."
Haskins has prepared and tried to verdict several complex and catastrophic medical-malpractice, premises liability and product liability lawsuits.
His peers say Haskins possesses the dedication, work ethic, knowledge and skill to become a top attorney for decades. Perhaps Haskins is following the example set by his parents. Both his mother and father are attorneys.
"I knew Chuck had the discipline, motivation and ambition to achieve anything he wished to be," said Thomas Prindable, attorney with Cogan & Power P.C.
Haskins has worked closely with partners Keith Hebeisen and Brad Cosgrove at Clifford Law Offices, two of the busiest trial lawyers in Chicago. Haskins participated as second chair with Cosgrove in six jury trials in 2018, among them a $4.5 million verdict in DuPage County for a woman seriously injured by a revolving door.
In another case, Cosgrove and Haskins earned a $900,000 verdict for a dog bite victim. The client rejected a $400,000 offer.
Haskins also second-chaired a month-long trial culminating in a $21.5 million verdict for the death of a young boy who drowned in a Chicago Park District pool, overcoming the government body's tort immunity.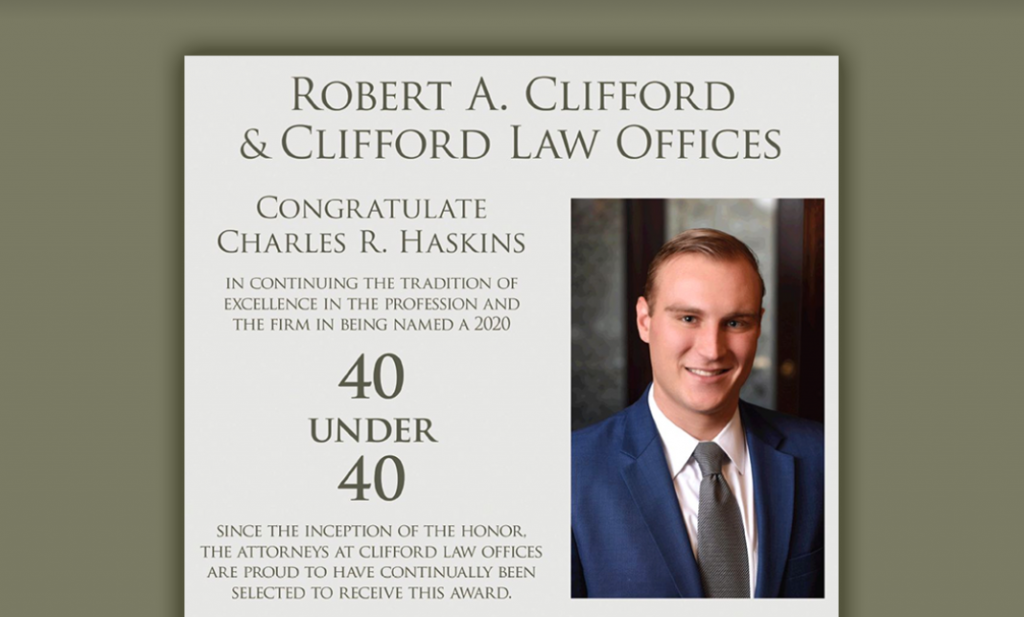 We are so proud to have Chuck on the Clifford Law Offices team!