"There's a camaraderie on the team that I also see at the office. Working together towards a common goal is a dimension of the sport that I see at work. Bob Clifford, Kevin Durkin, Keith Hebeisen…I work for a literal legal all-star team; I get to learn from these men,"- Krisopher Riddle, Attorney at Clifford Law Offices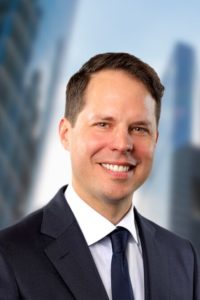 Attorney Kris Riddle quickly became an important player on the Clifford Law Offices team. He was on the job at the firm just one month and obtained a $100,000 partial settlement in an auto accident case for a woman who was t-boned when a driver ran a stop sign.
Kris is no stranger to the hard work it takes to be a successful wrongful death and personal injury attorney. His role has him involved in handling some of the most complex litigation at the firm. He does so with a steady, even demeanor, one that his clients and his colleagues appreciate and respect.
He is a life-long hockey player who takes out his aggression on the ice every week and in the courtroom every day. Kris has obtained a $16.75 million verdict on behalf of three clients who were severely injured in a high-profile Amtrak train derailment in DuPont, Washington. He also worked round-the-clock for years on the class action case against State Farm Insurance that dealt with the insurance giant paying for used parts instead of new vehicle parts for millions of policyholders. That case settled for $250 million.
Founder and senior partner, Bob Clifford relies on Kris to do any assignment that is given to him: "Kris is one of the brightest young attorneys I know…He is hard working, dependable and thoughtful in his approach to everything he does. He is a tremendous addition to the firm."
We are proud to have Kris as part of the Clifford Law Offices Team, working with us towards our goal of excellence!