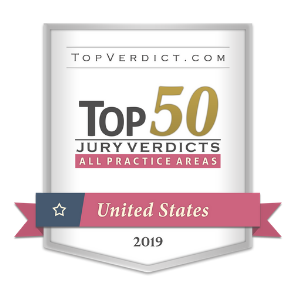 Clifford Law Offices, a nationally-recognized personal injury law firm, was named to the list of Top 50 Verdicts in the United States in 2019 by Top Verdict, for the case G.S. v. Walker, et al. that was centered around a delayed childbirth resulting in a birth injury. A $101 million verdict was obtained that was led by founder and senior partner, Robert A. Clifford, along with firm attorneys Bradley M. Cosgrove, Keith A. Hebeisen, Charles R. Haskins, and Sarah F. King.
This case also earned the following allocades from Top Verdict:
No. 1 Verdict in IL in 2019
No. 2 Birth Injury Verdict in the US in 2019
No. 2 Delayed Childbirth Verdict in the US in 2019
No. 3 Medical Malpractice Verdict in the US in 2019
Top 10 Verdicts in IL in 2019
Top 20 Personal Injury Verdicts in the US in 2019

Top Verdict recognizes law firms and attorneys' achievements based on factual achievements. Unlike other publications that base awards on peer opinions, those who are recognized on the Top Verdict lists are sourced from court records, electronic submissions by attorneys, and major legal publications. Due to this, only a small percentage of law firms make the list annually.
Every case at Clifford Law Offices is addressed as efficiently as possible with maximum compensation in mind and over $4 billion has been recovered from case settlements and verdicts since its inception in 1984.
To learn more about Clifford Law Offices, click here.
About Clifford Law Offices
Clifford Law Offices is ranked one of the top Chicago law firms, serving clients nationally and internationally for over 30 years. Our personal injury law firm concentrates on complex personal injury litigation such as for wrongful death, medical malpractice, product liability, premises negligence and transportation liability, and are nationally known for our success in complicated legal matters.