Clifford Law Offices is a sponsor of Season 2 of the hit healthy lifestyle series Step It Up with Steph airing on PBS and CREATE Television in the Fall. The show is hosted by celebrity Health & Fitness Expert Stephanie Mansour, who is a regular contributor for the Today Show and CNN, and a former intern at WNET.
In each episode of the six-episode series, Stephanie meets a guest who's struggling with a health or lifestyle issue. Stephanie, along with a panel of experts, gives the guest advice to change her life. At the end of each episode, the audience gets to see the guest four weeks later and witness her transformation.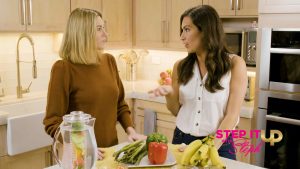 Clifford Law Offices Partner, Erin Clifford, who is also a Holistic Wellness Coach and has a passion for coaching lawyers on how to lead a balanced, healthy and fulfilling lifestyle, was invited by Stephanie to be part of the expert panel. Together they help a guest who is struggling with working from home.
To find out what happens, watch the show in the Chicago area on PBS – WTTW beginning on Saturday, September 4th, at 9AM. The show will also be airing nationwide on CREATE TV in the Fall. Check your local listings for showtimes.