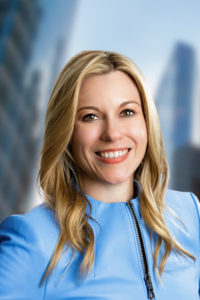 Erin Clifford, partner at Clifford Law Offices, was unanimously elected to the WTTW/WFMT Board of Directors at its June 30 Board meeting. She joins her father, Robert A. Clifford, founder and senior partner at Clifford Law Offices, on the Board.
Clifford Law Offices sponsors closed captioning of local programming on WTTW, one of the most-watched public television stations in the country.
The Board is comprised of a broad spectrum of Chicago's corporate, civic and philanthropic leaders. Erin Clifford, who serves as Director of Marketing and Business Development at Clifford Law Offices, obtained her bachelor's degree from Northwestern University where she majored in secondary education with a concentration in English. After teaching high school English in the Chicago Public Schools for five years, she obtained her law degree from DePaul University College of Law.
Erin is active in other Chicago philanthropic endeavors including serving as board chair of Lawyers Lend-A-Hand, an organization that channels resources to promote mentoring and tutoring in disadvantaged Chicago communities through lawyers' volunteering and distribution of grants. She also serves on the Friends of Prentice Board, a Chicago organization that is committed to superior health care for women. She serves on the board for the Chicago High School for the Arts, ChiArts, that fosters scholar-artists through its intensive pre-professional training program in the arts combined with a comprehensive college preparatory curriculum.
Erin also is the founder of Erin Clifford Wellness and Rockstar Doggy Momma where she serves as a holistic health coach through the Institute for Integrative Nutrition's Health Coach Training Program. Erin works with families, professionals, and corporations in creating and maintaining healthy lifestyles through nutrition, life and wellness coaching.
For further information, please contact Clifford Law Offices Communications Partner Pamela Sakowicz Menaker at 847-721-0909 (cell).