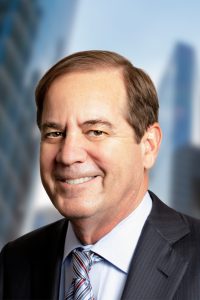 Keith A. Hebeisen, partner at Clifford Law Offices, takes an active role in the education and mentoring of Illinois law students. A regular volunteer at regional and national competitions, Mr. Hebeisen provides insight and knowledge to students from his nearly forty years of experience as a medical malpractice and trial attorney.
On March 2-3, 2023, Mr. Hebesien will join the American Association for Justice's Student Trial Advocacy Competition as a judge in their Regional Tournaments. Nearly 650 law students in 160 teams across 10 regions will compete in a mock trial tournament where their trial advocacy skills will be tested and assessed by practicing attorneys.
Two winning teams from each region are invited to compete in the National Finals with winners of the competition receiving scholarships and the opportunity to attend the AAJ Annual Convention.
Keith Hebeisen has a long-standing connection with the American Association for Justice and its mission of advocating for fair jury trial and justice for individuals. Throughout his years as a member of the association, he has served in several leadership positions including State Delegate, a member of the Executive Committee, as well as Governor from 2001-2002, and 2011.
To learn more about the upcoming competition, click here.