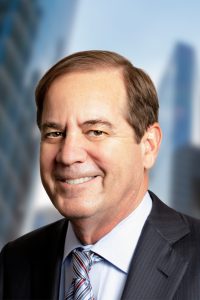 Each year, the American College of Trial Lawyers presents the National Trial Competition which brings together more than 140 law schools and over 1,000 law students nationwide in competition. Throughout February, students in 15 geographical regions across the United States compete for the chance to move on to finals in Texas. The winning teams and the schools they represent are the recipients of monetary prizes and honors.
This year, Clifford Law Offices partner Keith Hebeisen, a Fellow of the College, joined the 2023 Region 9 competition as a judge for the mock trial portion of the competition on February 9-10, 2023, at Northwestern University Pritzker School of Law. Region 9 includes schools in Illinois, West Indiana, and East Missouri.
With nearly four decades of experience as a trial lawyer, Mr. Hebeisen is well known for his work in a wide range of cases concentrated in the area of medical malpractice. His matter-of-fact style in the courtroom, and the thoroughness of his investigations, preparedness, and delivery of his cases, have resulted in numerous successful resolutions for his clients and brought him notoriety as a personal injury attorney in the legal community.
The ACTL is committed to the success of young trial lawyers pursuing their education and turns to leaders in the profession, such as Keith, to serve as evaluators and judges, sharing their insight and critiques with students throughout the competition.
To learn more about the National Trial Competition, click here.