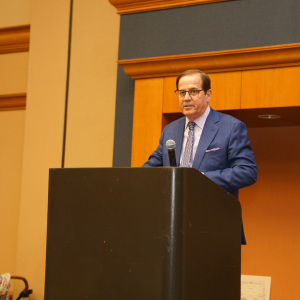 Keith A. Hebeisen, partner at Clifford Law Offices, received the Leonard M. Ring Lifetime Achievement Award at the 49th Annual Convention of the Illinois Trial Lawyers Association (ITLA) on June 17, 2022.
According to the Illinois Trial Lawyers Association, the criteria of the award is the following: "This award is given annually to someone selected by a committee appointed by the president. The recipient is someone who has devoted, as Leonard did, a substantial part of their life and their practice to ITLA, someone who has done more than is called for. Someone who has the standards of Leonard, the work ethics of Leonard and the commitment to ITLA that Leonard had. At the same time, it keeps alive the memory of Leonard Ring."
Hebeisen has been a member of ITLA since his induction as a lawyer in 1983 and served as ITLA President in 2005-06. He has served on the ITLA Executive Committee for decades. He has received ITLA Amicus Volunteer Award and since 1992 has served as Editor of its Medical Malpractice Notebook, a popular and thorough guide for trial lawyers across the state.
"I'm honored to be recognized and receive this prestigious award. The Illinois Trial Lawyers Association is the pre-eminent organization protecting the rights of our citizens and ensuring they can receive justice," Keith shared. He added, "I am also humbled to have my name now associated with Leonard Ring, one of the greatest lawyers ever in this state, as well as all the previous recipients of this award."
Congratulations, Keith!