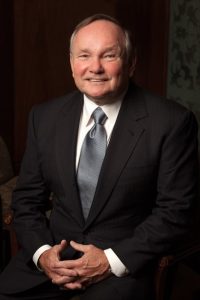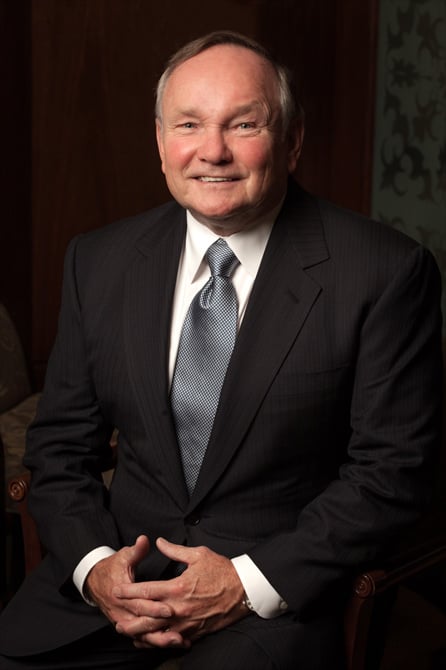 Robert A Clifford, founder and senior partner at Clifford Law Offices, has built a legacy of success based on excellence and dedication. Receiving the distinction of the #1 Attorney in Illinois by Super Lawyers®' 2023 rankings is a testament to the merit he demonstrates in his craft and the respect he has garnered from the legal community throughout his career.
Bob's leadership as an attorney stems from his desire to help those seriously impacted by the wrongdoings of others. He is passionate about pursuing justice for victims and their families, often taking high-stakes cases that present many challenges and complexities.
"We understand that families put their trust in us at the most trying times of their lives, and we embrace that responsibility with the utmost dedication and care," Clifford says. "Clients look to me for guidance and good judgment, and those things inspire me every day to try to be a better lawyer and person."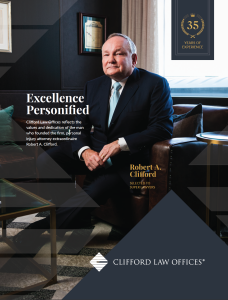 In addition to his success in the courtroom, Bob and his firm are deeply committed to the Chicago community, engaging in numerous philanthropic endeavors that range from supporting young people with the dream of becoming a lawyer to endorsing environmental organizations.
Bob's feature can be found on pages 35-38 of the annual 2023 Super Lawyers® Magazine, a publication that highlights and ranks the top attorneys using a patented multiphase selection process that includes peer nominations, evaluations, and independent research. Bob has been included in Super Lawyers®' lists since its inaugural year in 2005.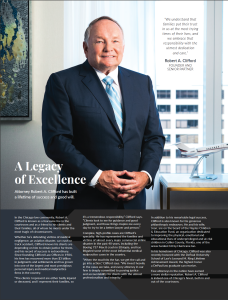 A total of eighteen Clifford Law Offices attorneys have been included in Super Lawyers® 2023 rankings, with five partners landing on the Top 100: 2023 Illinois Super Lawyers® List. Shannon M. McNulty, a partner at the firm, also received the distinction of being listed on Super Lawyers® "2023 Illinois Top 50 Women List."
To view the entire 2023 Super Lawyers® publication, click here.
To read more about Bob's accomplishments, click here.
Congratulations, Bob!