Sarah F. King, attorney at Clifford Law Offices, is one of Chicago's rising medical malpractice lawyers. As one of the most hard-working, intelligent attorneys one can find, it's no surprise she has been selected for membership in The National Trial Lawyers: Top 40 under 40.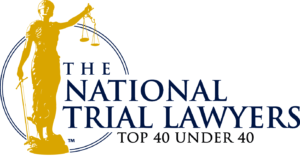 The National Trial Lawyers: Top 40 under 40 is a professional organization comprised of America's top young trial attorneys. Membership into The National Trial Lawyers: Top 40 under 40 is by invitation only, and is extended exclusively to those individuals who meet stringent qualifications and specialize in the legal practice of criminal defense or civil plaintiff.
Sarah has had substantial trial experience as an attorney of record in many of Clifford Law Offices' trials. She has tried numerous medical malpractice cases and been involved in verdicts that resulted in millions of dollars for victims and their families. Most recently, Sarah obtained a record $101 million verdict on behalf of a baby boy who was brain damaged at birth when his external fetal monitoring strips were ignored for six hours.
Sarah works tirelessly to investigate and prepare complex medical malpractice cases to achieve justice for those who have been harmed by medical negligence. She works with a dedication and tenacity to get to the bottom of what actually happened and what proper practices should have been used to prevent injuries related to medical care. It is this passion that makes her one of today's top Chicago medical malpractice lawyers.
Clifford Law Offices is proud to have her as part of our Chicago medical malpractice lawyer team, as are the clients for whom she works.
Congratulations Sarah!