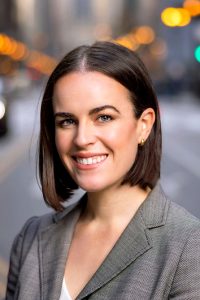 Tracy A. Brammeier has been named partner at Clifford Law Offices. Since starting at the firm as a law clerk in 2012 and becoming an associate in 2014, Tracy has built a reputation of hard work and perseverance that has led to her recognition as a young leader in the legal community.
"I like helping people in their time of need and being someone my clients know they can count on. Not only can I make a difference, but I can also be the rock a client leans on."
-Tracy A. Brammeier, partner at Clifford Law Offices
Tracy has built extensive experience across all areas of the firm's practice but has focused her work on complex and/or catastrophic transportation matters. She has assisted clients in a broad range of matters including severe cyclist crashes, truck accidents, boating incidents, and forklift accidents.
Tracy works alongside Robert A. Clifford and Kevin P. Durkin on complicated aviation cases, currently acting as the court-appointed Liaison Counsel for all plaintiffs in the lawsuit arising from the 2019 crash of Ethiopian Airlines Flight 302, a Boeing 737 MAX 8 airplane, which resulted in the deaths of 157 people.
Tracy's dedication to the profession extends well beyond her work at the firm with her involvement in several associations that promote the trajectory of the legal profession and uphold the values of the judicial system. Tracy is a member of the Board of Managers of the Chicago Bar Association, an investigating member of the Chicago Bar Association's Judicial Evaluation Committee, a past Chair of the Young Lawyers Section of the Chicago Bar Association, a member of the Board of Managers of the Illinois Trial Lawyers Association, a member of the International Aviation Women's Association as well as the American Association for Justice and the American Bar Association.
Philanthropy is an important component of the Clifford Law Offices culture and Tracy finds many opportunities to give back to the community through her work with the 100 Club of Chicago, a not-for-profit organization that assists the families of police officers and firefighters throughout Cook and Lake Counties, and her volunteer work with the Chicago Bar Association Young Lawyers Section program Wills For Heroes, which prepares basic wills for Chicago and Illinois State police officers. She has also competed in the "Most Fit Lawyer" competition hosted by the Young Lawyers Section of the Chicago Bar Association, which highlights the athletic agility of Chicago attorneys while raising funds to support the CBA's Edward J. Lewis II Lawyers in the Classroom Program.
Tracy's hard work has earned her many accolades from multiple organizations including Super Lawyers®, Best Lawyers®, Leading Lawyers, Law Bulletin Media, and Emerging Lawyers. In 2022 she received the Trial Lawyer Excellence Award from the Jury Verdict Reporter.