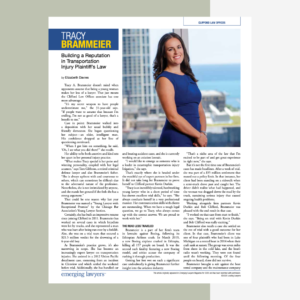 Tracy A. Brammeier, attorney at Clifford Law Offices, was featured in the Emerging Lawyers Magazine in an article titled Building a Reputation in Transportation Injury Plaintiff's Law. 
Tracy Brammeier joined Clifford Law Offices in 2011, and has since become an expert lawyer on transportation injuries. In 2012 she assisted in a Union Pacific derailment case, which stemmed from an incident in Glenview and settled the weekend before trial. She has also handled car and boating accident cases, and she is currently working on the lawsuit against Boeing in which the airline crash in Ethiopia killed all 157 people on board. 
Working alongside Clifford Law Offices partners, Bob Clifford and Kevin Durkin, Tracy was part of a $35 million settlement that maxed out a policy limit after one week of trial. The client had been standing on a sidewalk when a semi-truck drove past and caught her, and she was dragged down the road by the truck, sustaining serious injury that caused ongoing health problems. She says she "would like to emerge as someone who is a leader in catastrophic transportation injury litigation."
"Tracy is an incredibly talented, hardworking young lawyer who in a short period of time has shown excellent trial skills. She always conducts herself in a very professional manner. Her communication skills with clients are outstanding. When we have a tough legal question, we go to Tracy, who always comes up with the correct answer. We are proud to work with her."
-Kevin Durkin, partner at Clifford Law Offices
Tracy realized early on at Clifford Law Offices, that a personal injury lawyer's job is extended far beyond the courtroom. Empathy, patience and compassion are attributes that are needed and Tracy exudes. Her ability to be both kind and assertive sets her apart in her personal injury practice. She understands the scope of her clients' situation. She sees the importance of forming a relationship and trust over time. Tracy says those relationships are critical to performing her job well.
"I feel lucky to be at an office where I have great examples of ethical lawyering and an opportunity to be involved in meaningful cases," she says. "Not only can I make a difference, but I can also be the rock a client leans on. It's nice to be the person they call to make things better."

Tracy was just named to the "Top 100 Emerging Lawyers in Illinois" list by Law Bulletin Media, and last year Tracy was named a "Young Lawyer with Exceptional Promise" by the Chicago Bar Association's Young Lawyers Section. She is also involved in many community organizations which include: being on the board of managers for the Illinois Trial Lawyers Association, volunteering on the Judicial Evaluation Committee for the Chicago Bar Association and a member of the American Association for Justice. Tracy is the incoming second vice chair for the Chicago Bar Association's Young Lawyers Section, and last year she was in charge of their annual fundraiser which raised a record $30,000 through the casino night she organized.
We are proud to have Tracy on our Clifford Law Offices team; for making a difference, not only in people's lives when they need it the most, but also through her leadership roles in the Chicago Bar Association and through her volunteer work.
Click here to read the full article about Chicago personal injury lawyer Tracy Brammeier.