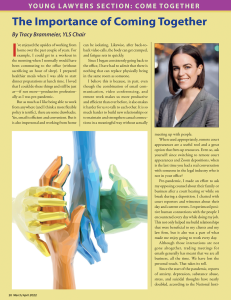 Clifford Law Offices associate attorney, Tracy A. Brammeier, Chair of the CBA Young Lawyers Section (YLS), wrote an article titled "The Importance of Coming Together" for the Chicago Bar Association's March/April 2022 issue. 
Working Remotely Lacks the Personal Touch
In the article, Tracy discusses the pros and cons of working remotely over the last few years due to the pandemic. On one hand, she admits that working from her home has allowed her more flexibility, such as getting in a morning workout instead of sitting in commute traffic or prepping for a healthy dinner on her lunch break. On the other hand, she notes that remote court appearances, Zoom depositions, and emails that are "all business" have eliminated "real conversation" between her and others in the legal industry that are not in her office. 
Tracy explains, "Pre-pandemic, I made an effort to ask my opposing counsel about their family or business after a court hearing or while on a break during a deposition. I chatted with court reporters and witnesses about their day and current events. I experienced human connections with the people I encountered every day while doing my job." She further explains, "Although these interactions are not gone altogether…We have lost the personal touch. That takes its toll."
YLS Focuses on Coming Together More in the Future
Tracy and her fellow YLS Officers have realized that "conversations are at a risk of becoming a lost art." With the world re-opening, they are focusing on expanding in-person events and opportunities in the coming months partly because, "talking to people you do not know very well or see every day about something other than the case you are working on is a skill, and one that diminishes without practice. Like any muscle, you must use it to build it." 
As Chair of the YLS, Tracy has enjoyed getting to know YLS members on both a personal and professional level. Her experience over the last few years has taught her the importance of coming together and "that we all need each other to thrive as lawyers."
For more information on the Young Lawyers Section of the Chicago Bar Association, visit this page.
–
Read Tracy's entire article here.