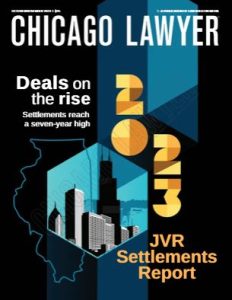 Clifford Law Offices has once again secured a place on the Chicago Lawyer Magazine's annual settlement survey, listed as number two in its 2023 Jury Verdict Reporter Settlement Report.
The list reflects the firm's total secured settlements of $500,000 or more within the state over the 12-month period from August 1, 2022, through July 31, 2023. One hundred and three Chicago firms were recognized this year for their outstanding legal work and commitment.
Totaling just over $157 million across 30 reported settlements, Clifford Law Offices' remarkable caseload involving complex personal injury and wrongful death cases demonstrates the profound impact the firm has had on individuals and families across Chicago and throughout Illinois. The firm's top case was a $27 million settlement obtained by attorneys Robert A. Clifford, Susan A. Capra, Keith A. Hebeisen, Emily A. Herbick, and Joseph T. Murphy, on behalf of an 8-year-old girl, who at birth suffered serious, permanent injuries during delivery, that left her with cerebral palsy and cognitive deficits.
To read the entire Settlement Report in Chicago Lawyer Magazine, click here. To learn more about Clifford Law Offices, click here.
About Clifford Law Offices
Clifford Law Offices is an award-winning personal injury law firm ranked as one of the top law firms in Illinois. Since 1984, Clifford Law Offices has built a reputation nationally and internationally for expertly and successfully handling complicated claims involving aviation litigation, complex personal injury, wrongful death cases, medical malpractice, products liability, premises liability, and transportation litigation. Clifford Law Offices – Serious Cases. Exceptional Results. To learn more, please visit www.cliffordlaw.com.