Helicopter Accident Attorneys Who Fights for Just Compensation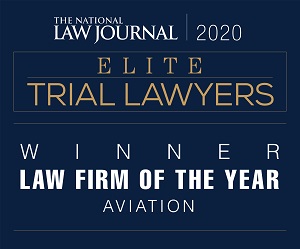 The complicated nature of a helicopter accident demands the kinds of resources that clients may or may not have the time to pursue. Clifford Law Offices' aviation accident attorney team is devoted to investigating and litigating these specific types of cases, and has achieved significant settlements for their clients.
Click here to view our download our Aviation Brochure.
How a Helicopter Lawsuit Can Come to Pass
The convenience and adaptability of helicopters partially accounts for their commonplace use in both private and public capacities. Helicopters are used for a variety of applications including corporate travel, tourist sightseeing, medical transport, and even some logging operations. The complex design of helicopters provides for their utility, but it also creates dangers unique to their operation. In the event of power loss to a helicopter's rotor, the aircraft's design will allow for auto-rotation but only for a short time. Moreover, any malfunction with vital components, such as the main rotor, can result in helicopter accidents. These malfunctions lead to helicopter lawsuits and the involvement of an attorney who understands aviation accidents and incidents.
How Do Helicopter Accidents Happen?
According to the National Transportation Safety Board (NTSB), the first occurrence of an accident often happens when helicopters are engaged in maneuvers that are unique to their capabilities, such as hovering or carrying external loads. As the aviation accident attorney develops the helicopter lawsuit, the determination of the first occurrence in an accident is considered in how and why the accident began. The finding of the first occurrence in the chain of events is central to determining and distinguishing between the causes of, and factors contributing to, a helicopter accident.
However, determining a causal factor in the event of a helicopter crash can sometimes be more difficult than in the case of a plane crash. Federal Aviation Administration (FAA) helicopter regulations do not always require them to be equipped with a black box, the device that records vital flight data. Furthermore, the utility of helicopters often can put them in situations that increase the odds for an accident. Ferrying workers to offshore oil rigs, flying close to the ground where tension and electrical wires are a factor, and hovering in rescue situations are all common tasks in which helicopters are involved. Pilots, though, are well aware of these situations and should be trained for these conditions and events.
In light of these complex conditions, helicopter accident attorneys with the resources and experience to navigate the investigation and the development of the case are necessary in order to try the matter. The helicopter accident litigation team at Clifford Law Offices has extensive resources that are brought to bear on all of its helicopter lawsuits. The aviation attorneys at the firm also have valuable experience in investigating and litigating helicopter crash accidents. Robert A. Clifford obtained a $10 million settlement for the family of a Brazilian entrepreneur who was killed with his wife as they took a short helicopter flight from New York to New Jersey. The pilot, who was also killed, flew into inclement weather and was unable to steer the aircraft safely. In another case, Kevin P. Durkin, partner and an aviation accident attorney at the firm, successfully settled a case for $4.1 million on behalf of a photographer killed in a helicopter that crashed into a northwestern suburban home in Chicago.
Please visit our Record of Justice to read more about specific aviation cases.
Our Record of Helicopter Accident Compensation
Chicago
Our aviation attorneys obtained $4.1 million in 1998 on behalf of a photographer killed in a helicopter crash that plummeted into a northwestern suburban home in Chicago.
New York-New Jersey
Our aviation accident law firm obtained $10 million for the family of a Brazilian entrepreneur killed in a 1994 aircraft crash as he and his wife took a short helicopter flight from New York to New Jersey. The helicopter crash was the result of the inexperienced pilot who was unable to navigate in inclement weather.
Goshen, Indiana
A student pilot sustained serious injuries when he was on a training flight with his instructor at Goshen Municipal Airport in Goshen, Indiana. The instructor and a rear-seat passenger, each represented by Clifford Law Offices, also sustained injuries from the August 5, 2005 crash.
Alaska
Clifford Law Offices and its aviation accident attorney team represented a 43-year-old mother of two teenagers who were killed in a helicopter crash in a mountainous area of Alaska in June 1999. To strengthen the helicopter lawsuit, the firm hired experts to help in the investigation and legal discovery of the accident on behalf of the Blanford family living in Florida. It was found that the pilot became disoriented and crashed the helicopter into a mountain. It resulted in a $900,000 settlement.
Arlington Heights, Illinois
Robert Clifford and Kevin Durkin represented the family of a photographer killed in a helicopter crash on May 1, 1998 in Arlington Heights, a Chicago suburb. The aviation attorneys obtained a $4.1 million settlement against the helicopter transport company that operated the flight from a regional airport. As a sidearm of the lawsuit, Clifford Law Offices also represents the couple whose suburban home was destroyed by the helicopter crash.
Frankfort, Illinois
On October 30, 1997, a helicopter crashed in suburban Frankfort, Illinois. Clifford Law Offices represented the pilot of the craft in the lawsuit. The probable cause of the crash was determined to be a misjudgment of the clearance while maneuvering the approach to a runway on a dark night.