School bus accidents are no stranger to experienced bus accident attorneys, but to families and children, they are not an everyday occurrence. When an accident occurs, it affects those involved in many ways, particularly emotionally, psychologically, and physically, perhaps for an entire lifetime for the families. Bus accident lawyers work with victims of school bus accidents to get answers to what happened and to try to achieve justice through the court system and to help find some sense of closure.
Navigate This Page
How do Bus Accidents Happen?
The most recent tragic school bus accident in Chattanooga, Tennessee, has left the families of Woodmore Elementary School in shock, grieving for the loss of six young lives and more than a dozen others seriously injured. The nation mourns with them as shocking videos and pictures of the crash are replayed on the news. The driver of the bus reportedly just received his commercial driver's license in April. Reports state that he was involved in an accident earlier this year, and authorities are reporting that the bus driver was speeding during the tragic crash on a narrow road and flipped the bus on its side before striking a tree, nearly splitting the bus in half. The bus company, Durham School Services, is based in Warrenville, a suburb west of Chicago.
Clifford Law Offices is a highly experienced personal injury and wrongful death law firm in Chicago with a national reputation in the area of bus crashes. Robert Clifford and Kevin Durkin, partners at the firm, have handled a number of cases, including school bus cases, where children tragically lost their lives. For example, a school bus was sitting on railroad tracks in suburban Chicago when a train struck the back of the bus, killing several students and injuring many more. Clifford Law Offices represented a number of those families and got the answers that they were seeking. There, as in the Chattanooga school bus crash, the National Transportation Safety Board (NTSB) was on the scene investigating the cause of the crash that included examining the "black box" that captures and saves the movement of the bus prior to the crash. Seven students in that tragic crash were killed in Fox River Grove. Clifford Law Offices settled the matter for its clients for a confidential amount.
Our Lawyers Seek Justice For Victims of School Bus Accidents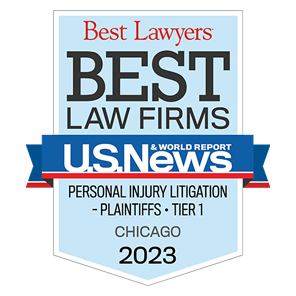 Kevin P. Durkin has represented numerous families involving Chicago Transit Authority passengers injured in bus crashes as well as the family of a child injured in a bus crash that resulted in the change in the design of school buses so that now they are equipped with an arm that extends in the front protecting children who exit and leave the bus from the front.
As bus accident attorneys are aware, it is estimated that more than 23 million elementary and secondary school children ride school buses every day in the United States. National data show that school bus related accidents send 17,000 children to the emergency rooms every year in this country. Nearly one quarter of those accidents occur when children are boarding or leaving school buses. Crashes reportedly account for 42 percent of accidents involving children and school buses, which amounts to about 8,000 children every year. The statistics are alarming.
The National Highway Traffic Safety Administration (NHTSA) has established federal motor vehicle safety standards that must be followed by school bus owners and companies. The attorneys that work with bus accident victims will research whether or not the bus owner or company followed these requirements, which include regulating emergency exits, roof structure, seating, fuel systems, as well as bus body joint integrity.
Buses certainly are a convenient form of public transportation – whether they be commuter buses, tour buses, airport shuttles, ski shuttle buses, casino buses, or, of course, school buses. As common carriers, bus drivers and bus companies owe their passengers the highest duty of care in protecting them from harm. School bus driving takes special training and that training must be adequate to meet that greater duty of care. School buses also need to be checked regularly for safe operation. When bus accident lawyers take on a case, the actions against a common carrier can involve the negligent conduct of the bus driver or inadequate training, or the condition of the school bus itself, such as improper maintenance or defective parts.
Whenever a family suffers from a wrongful death or injury at the hands of another, it is a tragedy. But, as bus accident attorneys can attest, it seems that bus accidents and other mass transportation accidents affect those families and the general public the worst. The communities of these families and all of America mourn the disasters when people needlessly die. It is particularly heartbreaking when children die at the hands of a negligent bus driver.
Expert Bus Accident Representation
If you or a loved one has been involved in a school bus crash, there is a need to mourn, to grieve, and to try to put your lives back together. It is also important to contact an experienced attorney so they can handle the legal issues while the families can handle their personal issues. It is important to do so as soon as the family is able so that important evidence can be gathered and discussions with the appropriate authorities can begin. Deadlines to file cases against bus companies are called statutes of limitations. They vary from state to state, and certain common carriers that are owned by governmental entities such as federal, state, county or city governments may have special notices that must be given before filing a lawsuit. These time periods can be very short, and this is why it is important to contact an experienced personal injury lawyer immediately following the event.
Clifford Law Offices' lawyers also have handled bus accident cases involving the 2005 tragedy of a University of Illinois student killed in 2005 by a bus driver made national headlines. The firm filed a lawsuit against the Mass Transit District and its driver on behalf of the family of a freshman student from Deerfield who was killed while she was walking to her dormitory. The firm's bus accident attorneys also represented a 15-year-old honors student from the West Side of Chicago who was severely injured when a bus driver struck her at the curb and then drove away. Clifford Law Offices also represented the family of an 81-year-old woman killed when a semi-trailer rammed the back of a tour bus in which she was sitting with dozens of other elderly people.
Our Chicago Bus Accident Lawyers' Cases Dealing with Bus Accidents
Robert Clifford – $24 million (Verdict): 8-year-old boy suffers permanent brain damage and motor impairment after he was struck by a CTA bus as he crossed the street in a school zone crosswalk.
Kevin Durkin – $7 million (Verdict): Woman in crosswalk struck by bus suffers permanent brain damage.
Robert Clifford – $6.5 million (Verdict): 55-year-old woman's legs crushed by a CTA bus making too tight a turn in the crosswalk.
Robert Clifford – $5 million (Verdict): Jogger hit by bus suffers permanent injuries.
Kevin Durkin – $1.2 million (Verdict): Single female struck and injured by private bus.
Craig Squillace – $374,430 (Verdict): 41-year-old passenger on bus thrown into air and lands on right heel, fracturing it, when bus hits a bump.
Robert Clifford – $2.775 million: Bus makes tight right-hand turn and pins 24-year-old woman against barrier; leg is degloved.